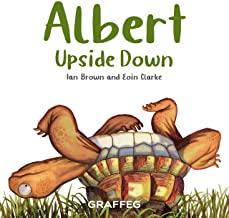 Albert, the tortoise, is in a bit of a pickle, having fallen onto his back searching for food and needs help from other creatures in the garden. Will their attempts to put him upright succeed?
This is a charming, delightfully illustrated children's book. Albert, Upside Down (Graffeg), written by Ian Brown and illustrated by Eoin Clarke, is a definite hit with our three grandchildren aged 5, 4 and 2. For our granddaughter it is currently her favourite bedtime read. The story theme has an Aesop fable feel to it that provides lots of opportunities to discuss being kind, helpful and showing that everybody's little actions count.
The children and I find the detail of the illustrations captivating – bright, simple and expressive - sparking off our imaginations and lots of discussion. My favourite creature is the daddy-long legs wearing wellie boots – what a gem! What will yours (and the children's, of course) be? Children are encouraged throughout the story to use their observation skills to spot the different creatures who have come to help Albert. Can you spot the different coloured ladybirds? How many ants have come to help?
If I have one piece of feedback it would be that the text in a few places, alongside some of the illustrations, is a bit too long, and slows the pace of the story. However the book, Albert, Upside Down (Graffeg), overall is a real find and is certainly on my highly recommended list. Fantastic, too, that the book is based on a real live tortoise, called Albert.
PWT rating: ♥♥♥♥♥
Published by Graffeg and available from bookshops and Amazon: Albert Upside Down (Albert the Tortoise)