While many of us would like to enjoy the benefits of a personal coach or therapist, financial constraints and family commitments mean that we do not have the time or money to invest in ourselves which is sad as the more self-aware, patient, positive and motivated we are, the better able we are to parent effectively.
There are thousands of self-help books on the market and at Parenting Without Tears we review some of the best. And this is the case with An Inside Job™ by Tricia Woolfrey and Helen Craven.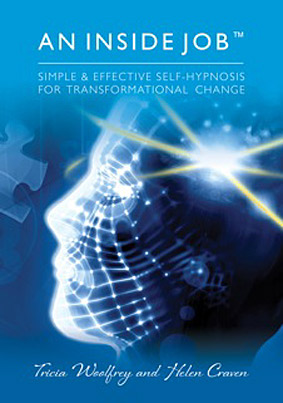 Here is a book which will take you through the steps to successful self-hypnosis which can help you change or improve your life, dealing with a variety of issues which include:
Confidence
Weight loss
Anxiety
Goal achievement
Creating more abundance
Improving relationships
Managing stress
An Inside Job™ is an excellent book but not one to be dipped into lightly. You will need to commit time and effort to reap the benefits of self-hypnosis it promises. However it is easy to read and definitely empowering! Included is a CD with an introduction and two hypnosis tracks which you could listen to through headphones for maximum impact.
An Inside Job™ is the result of collaboration between two very experienced Harley Street clinical hypnotherapists: Tricia Woolfrey and Helen Craven. They have both studied advanced techniques with some of the best teachers around the world, and coupled with their many years of work with many hundreds of clients, this has equipped them to develop a simple, flexible and comprehensive self-hypnosis system that is easy to follow, and which empowers the layman to make changes for themselves, in the privacy of their own mind.
This is a great book to get you sailing through 2013!
PWT rating: ♥♥♥♥♥
By purchasing directly from Tricia Woolfrey and Helen Craven you can save £5 on the RRP £20.