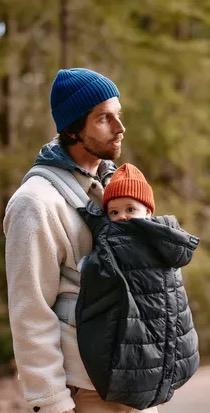 For the last few months, with the random bursts of good weather (and then rain!) it has felt quite muggy and it was hard to imagine a time we would need a cover for our Baby Bjorn sling.
However, November is here and the temperature has definitely dropped and the cold is upon us. The BabyBjörn Winter Cover has been a very welcome addition for our walks. We have a very active dog who needs to be tired out and we often favour walks "off road" where a buggy would be problematic and the sling is favourable.
We have to be out in all weathers, rain or shine, so the wind and water repellant cover is perfect for the variable weather we get in the UK. It is light and compact so fits easily into a change bag or back pack for a day out or on a walk.
The water repellant nature means it can also be wiped clean if anything is smeared onto it (the sticky hands of a seven month old after a rice cake is a particularly grim experience and a substance that gets everywhere).
It can be used in the forward facing or parent facing sling modes, and it fits any Baby Bjorn sling making it versatile and perfect for those of us who have a variety of slings! (My partner and I have one each to stop us from having to constantly adapt the straps to fit us after each use.)
The Baby Carrier Winter Cover (rrp £92.90) is available from BabyBjörn.