To mark National Spa Week, here is my experience of a spa day for two at Bannatyne Spa in Chingford courtesy of buyagift. We live in south east London so Chingford seemed quite a trek but in fact it was easy to get to via tube to Blackhorse Road and a short hop on a 158 bus. Parking is available if you want to drive there.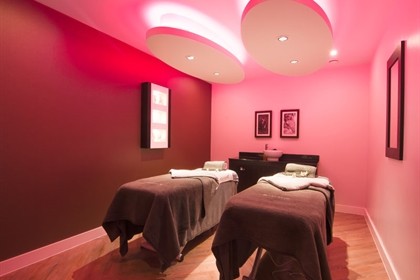 Arriving about an hour before our appointment for treatments, there was no one in reception who seemed to know about checking us in but eventually we were directed to the therapy area. There were no bags for robes and towels as advertised, and the robes had not been organised in sizes so quite a few clients had to change them. Only one towel was offered which I found strange as most places I've been to have piles of them available for use when you need them.
Once changed we were directed to the relaxation room to wait – sadly it was completely full so we sat in the café area.
We were in a double treatment room where we were booked in for facials, back massage and head massage. These were fabulously relaxing. The room was peaceful and comfortable and our therapists were considerate and competent.
PWT rating: ♥♥♥♥♥
And so to lunch. The food was cooked on site. The woman serving us was brilliant at checking meals for dairy and gluten, was amusing and fun without being intrusive. We both opted for jacket potato with tuna mayo and a kale cole slaw. Delicious and excellent value washed down with a glass of Prosecco.
PWT rating: ♥♥♥♥♥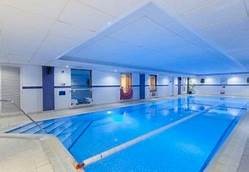 We didn't make the gym but it looked well equipped. The pool was larger than many in spas. While we were having lunch we watched a water aerobic class which looked fun if rather energetic.
There were plenty of loungers available around the pool and both the sauna and the stem rooms were of good size and there was a high standard of cleanliness. A great disappointment was that the jacuzzi was out of order the whole time we were there and no one seemed to know when it would be back in action.
At about 3.30 there was a children's swimming class which was noisy and ruined our peace – although a swimming lane was maintained.
The changing rooms were fine but you need to take your own shampoo and conditioner (often available in spas).
PWT rating: ♥♥♥♥♥
Bannatyne Health Club Chingford 2 Morrison Avenue Chingford Greater London , E4 8SA