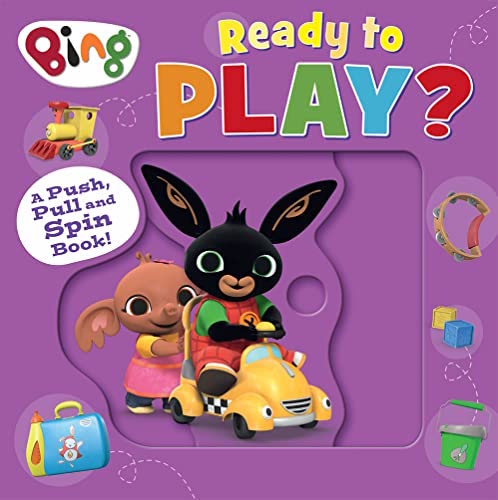 We fell in love with Bing when he first appeared in the award winning animated series from Acamar Films, on CBeebies – no doubt that Mark Rylance voicing Flop, Bing's carer had something to do with this for adults!
Bing: Ready to Play? A Push, Pull and Spin Book for toddlers and young children is a delightful, fabulously illustrated board book in which you join Bing and his friends for a busy day of having fun together.
Toddlers and children can push a tab or turn the wheel, encouraging fine motor skills and the book offers lots of opportunities for discussions. On the first page there's a question: Can you spot a toy train? But there is so much else to look out for and ask questions about: books, toy bricks, a slide, a ladybird and so on encouraging observations skills.
Playing (and reading) together is a Bing thing!
PWT rating: ♥♥♥♥♥
Published by HarperCollins, Bing: Ready to Play? is available online and in bookshops.