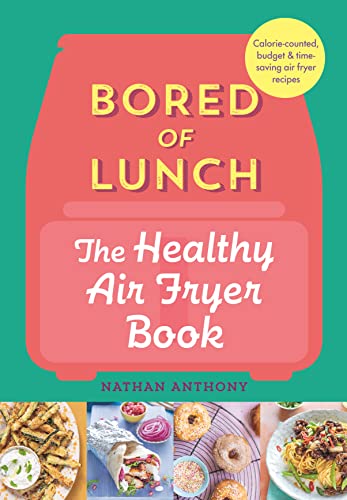 Following on from Bored of Lunch The Healthy Slow Cooker Book, Nathan Anthony shares his cooking enthusiasm in The Healthy Air Fryer Book.
I am still preparing meals from Nathan Anthony's first book and have had some great feedback, so I was looking forward to seeing what I could do in my air fryer. Air fryers were flying off the shelves before Christmas as the must have item to help beat the cost of living crisis. I bought mine in January and to be honest I was that impressed. Could Nathan Anthony change my mind?
The Healthy Air Fryer Book includes 80 recipes that are easy to follow, affordable, healthy and tasty. The range includes starter and deserts as well as lunches and dinners.
What I found particularly useful is the Air Fryer Cooking Guide at the beginning of the book which covers cooking times for different fish, vegetables, meat and frozen food. Plus just as in the previous book the author lists Pantry Essentials so you don't get caught without a basic ingredient.
Each recipe also gives a calorie count for those of us watching our weight. I loved the Honey, garlic and chilli chicken spring rolls. For some of the recipes you will need a larger air fryer with compartments.
This book has definitely made me reconsider the usefulness of my air fryer!
PWT rating: ♥♥♥♥
Published by Ebury Press and available from bookshops and online.