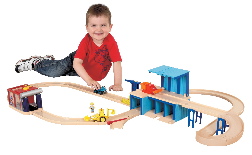 In time for Christmas, a present to light up the eyes of Bob the Buider fans!
Fantastic Bob the Builder SNAP TRAX set features locations from the popular TV series – the carwash and garage. The SNAP TRAX pieces snap together easily to create either a road or rail surface.
The car wash has real working features including a conveyor belt, sprinkler water washer, rotating sponge washers and real working fan dryer. The garage comes complete with winding lift mechanism to raise/lower vehicles to and from the upper level of Bob's garage. The garage also turns into carry case that can hold three vehicles and pieces of track.
Other features include an exciting downhill spiral track and manual track switcher. The set also includes pull back character vehicles and articulated Bob figure.
Friction Bristle Can we clean it? Yes we can! All new character to the hit TV show is friction-powered Bristle.
He comes complete with working rubber bristles that cleverly pick up his litter balls that end up in the waste unit on the back. Tilt the waste unit and open the back door to release the balls!
Bob the Builder Snaptrax Set and Friction Bristle are suitable for children aged three plus. For a complete range of Born to Play toys visit www.borntoplay.com
To enter the competition answer this simple question:
What is the name of the new character in Bob the Builder TV show?
The first email opened at random on Wednesday 17 December 2008 will win the Bob the Builder Snaptrax Set. the next ten emails opened at random will win Friction Bristle.