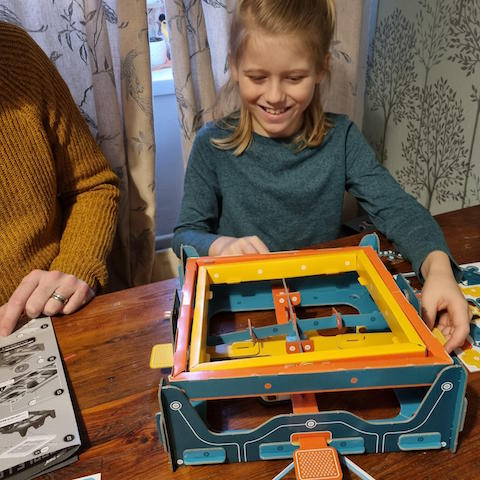 BYO STEM-inspired Marble Labyrinth, made using sustainable cardboard, is not only fun and engaging to play with but also eco-friendly:
Mess-free, slot together cardboard construction

90-minute build

Skill level rating: 3.5 stars out of 5

148 press-out parts (plus 5 x swirly glass marbles)

Develops fine motor skills, concentration, perception, and reasoning

High-quality sustainable cardboard

Full instructions included

Designed in the UK

Fun, educational and supports STEM

Age 8+ (adult supervision recommended)
Our build was a little over the 90 minute mark, we got a little confused at certain stages. However, I think this was down to Dad-error rather than the instructions, which are very clear and concise. Our nine-year-old soon put us on the right track and we were away. The build itself is quite straight forward. Some bits our son needed help with and some bits only he could do with his tiny fingers.
I would say my only criticism in the instructions is that they are all black and white and, to make them clearer, colour would be better.
This set is the most sturdy in terms of overall strength and could probably withstand a lot of rough play, from an over excitable nine-year-old.
The Labyrinth is fun, with two different games for the price of one, which at a retail price of £19.99 is great value for money. Especially with the build time and play time included. There is nothing like the sense of achievement you get when you finish the build and then you get to play. The only arguments that may arise is who gets to play first.
Our son commented, "It's a lot of fun to build, but there were tricky bits. I was proud that I could do some bits my dad couldn't. I think this is my second favourite. My first is the Kalediscope."
We would definitely give this a thumbs up.
PWT rating: ♥♥♥♥♥
Available from buildyourown