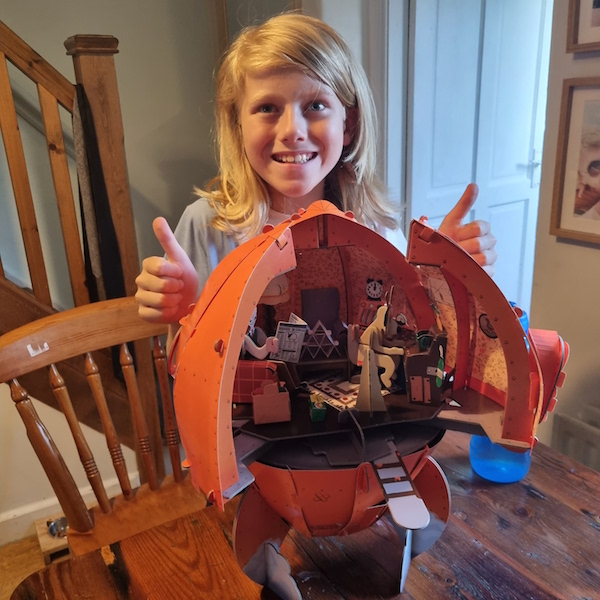 Fancy building your own rocket from Aardman's first film, A Grand Day Out, and flying to the moon for cheese? Now you can with this cracking cardboard Wallace and Gromit Rocket BYO kit which comes complete with 135 press-out parts that easily slot together, and within three magical hours, you will have a rocket, complete with Cooker and Wallace & Gromit characters, with moving parts – not forgetting the moon cheese!
The rocket's interior features the Wallace & Gromit wallpaper and flames from the bottom that retract when the doors open. With hours of fun, you'll have a blast making this. If you find cheese, don't forget the crackers!
Build Your Own Wallace & Gromit Rocket
Made from 100 percent sustainable cardboard and paper
Suitable for ages 10 to 100
Mess-free, slot-together cardboard construction
Approximately a three-hour build
135 press-out parts
Detailed instructions included
We have now completed quite a few of these sets, but lets face it nothing beats Wallace and Gromit! I remember watching Wallace and Gromit with my dad, and he still to this day has cards and pictures I drew 30 plus years ago with the famous duo on. Although Gromit was always my favourite. So needless to say, I was very excited when the set arrived for us to build and review.
If you have read one of our reviews before then you will know our one and only bug bear has been that the instructions have never been in colour so sometimes its hard to differentiate between the two sides and which way round bits go... Now I'm not saying BYO as a company have read our reviews and thought "Lee and Ben are right! We must change the instructions immediately" but then again, I'm not saying that they haven't either. This made following the instructions so much easier.
Now it is important to state at this point it is a three-hour build, the longest we have ever done. If you have a child with a short attention span, like us then it will be considerably longer! All-in-all it took us from start to finish one week. Now we didn't sit there and do it from start to finish, obviously, we had to take breaks and then crack on with it another day after our little one zoned out.
However the build itself was relatively painless and the amount of detail and moving parts is astonishing! We even video called Grandpa and he was stunned at how good it was. The only thing you may have to prepare yourself for is the furniture inside the rocket, especially the chairs. Fat fingers are a no-no (trust me I have them) you need someone with manual dexterity.
We absolutely loved this set, but I definitely think it is one for the older generation who watched the specials as they came out so my age – or younger devotees who have caught up with them.
I always find it so hard to believe that these kits are sustainable, recycled paper and card and there is not a glue stick, staplers, or scissors anywhere to be seen. We really do applaud the creative geniuses behind the design of these kits.
Nine year old Mason gave it a 3,5 heart rating: "I like it, it was very tricky to build and it was a very long build as well."
Parents love the nostalgia!
PWT rating: ♥♥♥♥♥
Available from buildyourown