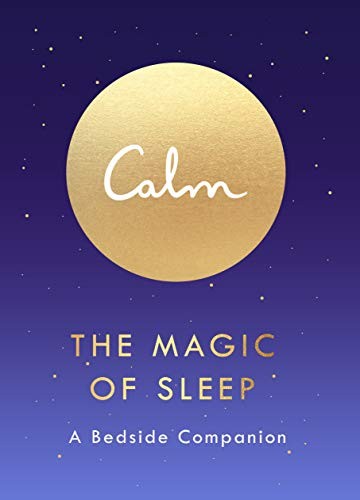 The first thing you notice when you pick up a copy of Calm – The Magic of Sleep is the fabulous cover which not only looks good but feels good and I love the rounded corners.
Billed as a bedside companion it is fitting that the colour blue is predominant and used to great purpose.My only quibble would be that white type on a light blue background sometimes makes reading more difficult.
This is a book of facts and figure to dip into, questionnaires and tasks to complete, some lighthearted some more serious.
Even if you sleep well with only the odd foray into insomnia you will probably find something within these pages to surprise and delight you. The book is divided into four sections:
The Science of Sleep
Sleep Problems
The Dream World
The Magic of Sleep
However you don't have to read them in that order. Irritatingly (for me) there are no page numbers and no index which would have been helpful but there is a useful glossary at the end of the book.
There are lots of strategies for optimising sleep and getting the most from your hours in bed and some of the information relates to the Calm app that you can try which gives a daily meditation as well music to fall asleep to. The book lists the ten most popular sleep stories on the app (and there are some her for children as well).
PWT rating: ♥♥♥♥♥
Published by Penguin, the book is available from bookshops and Amazon:
The Magic of Sleep: A Bedside Companion