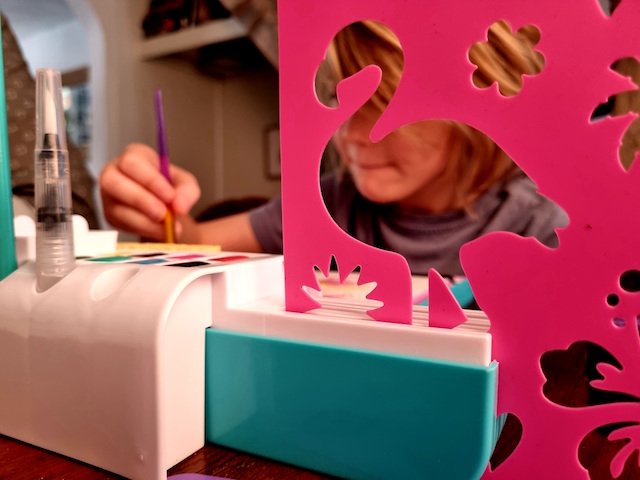 Canal Toys Art Lab Watercolour Studio: "Create beautiful works of art with this complete, easy-to-use watercolour art studio from Art Lab! Each pack comes complete with 15 watercolour paper sheets, eight paints, a workstation and 14 special tools for creating your masterpieces. There's also a handy instruction guide to explain six effective watercolour techniques to try!
"Just choose your special watercolour paper size and style, trace your design, paint in your colour scheme, draw in the details and have fun! You can display your art at home or gift it to someone special!"
This product created a very easy buzz in our house, as soon as the delivery guy dropped it off and we revealed what was inside to our son (now eight) he was super excited, even to the point of letting out a shriek of joy. That's the great thing about him, you quickly know if a toy/present is any good as the same excitable shriek happens.
The box is bright and colourful with great pictures of how your art could look, it has a contents on the back to engage all artists, little and big, and yes I was getting in on this action too.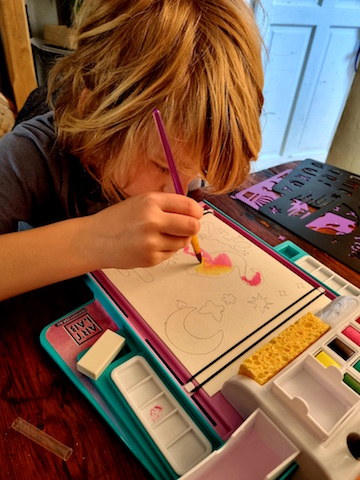 The kit is sturdy plastic and there is a little to set up before you start, but in my opinion it only added to the excitement, as we were asked at each step "What does this do?" and "can I use this?"
After the set up we were ready to go, and boy did we have fun. We tried a couple of the techniques in the easy-to-use guide, and we loved each and every one. As our son is so creative, he loved using the stencils and creating his own pieces of art. There really is a lot in the box to keep you entertained, and we were. In fact, our son loved it that much we have used it several times over the Easter period and hand painted notes and cards for family members, whilst also creating some lovely art for our home.
I really can't praise this product enough and neither can our son.
When we asked him his thoughts he responded with "It is awesome, can we do more?"
If your child is a budding artist and likes creating, then this is a product you could entertain with for days! We will be looking for more of the Art Lab items!
If of course you have read our reviews before we always add a "parenting niggles" section. However, this time there was none. Yes, there is the obvious clean up, like with all painting things, but nothing to really get on your nerves…. Oh, and if you have a child that likes to really get the brush clean after using a colour, don't fill up the water pot too much!
Both adults and children enjoyed this product, and it easily got our seal of approval and the price point (£21 to £25 depending on where you buy) is good with how much you get.
PWT rating: ♥♥♥♥♥
Find out where to buy Canal Toys Art Lab Watercolour Studio