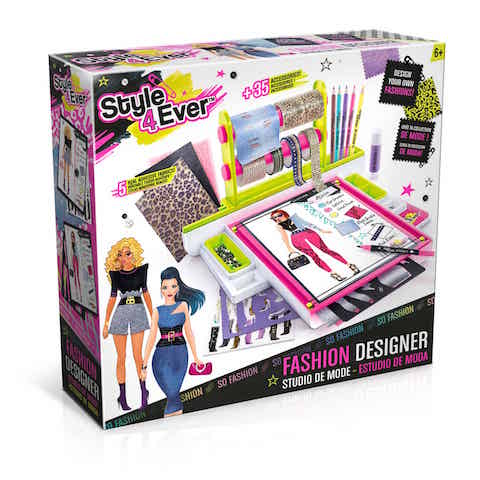 When I opened the Canal Toys Style 4 Ever Fashion Designer Studio parcel and saw the garishly bright box I had doubts about the quality of its contents. But as an adult what do I know about what a six year old would think. I need not have worried! The whoops of excitement when our granddaughter saw it said it all. She was captivated and wanted to get started straight away. As she was only visiting for a short time and would be returning the next day for longer I persuaded her to wait.
As soon as our granddaughter arrived next day naturally she wanted to investigate what was inside the box. Setting up the desk tray is straightforward, although be warned the bands to hold the paper in place are fiddly to attach. The instruction booklet is helpful and very easy to follow.
I am very impressed with the quantity and quality of the materials in Canal Toys Style 4 Ever Fashion Designer Studio. There are plenty of sheets with outlines of models ready to be dressed. This means children do not quickly get upset when the materials run out before they have finished dressing the models. The templates, providing different styles of clothing, are robust and there are more than enough pieces of fabric, both self-adhesive and to be attached using glue. The fabrics are varied in colour and texture, adding opportunities for children to choose the ones they like and use their imagination to design their own fashions.
The versatility of the templates offered is impressive. Not only is there scope with the fabrics for children to cut out clothes and dress the models but also draw around the templates and colour in with their own designs. Equally positive is the fact that glue and colouring pencils are provided. There's nothing more frustrating than finding you need extras before you are able to get the activity going. The sheets with outlines of models on have room for recording make-up and other accessories, many of which are included for example shoes and handbags. There are also rolls of pre-prepared designs able to be assembled on the desk tray for easy use. I would like to see one or two sheets of male models introduced to the box with may be one template of male clothes. This would add more diversity.
Younger children may find the dexterity needed for cutting out the fabrics challenging and require supervision. My six-year old granddaughter managed these fine with the occasional assistance. This suggests a target age of six plus. I highly recommend Canal Toys Style 4 Ever Fashion Designer Studio. It kept my granddaughter engaged for hours and is an activity she returns to time and time again.
PWT rating: ♥♥♥♥♥
Find out where to buy Canal Toys Style 4 Ever Fashion Designer Studio RRP £22