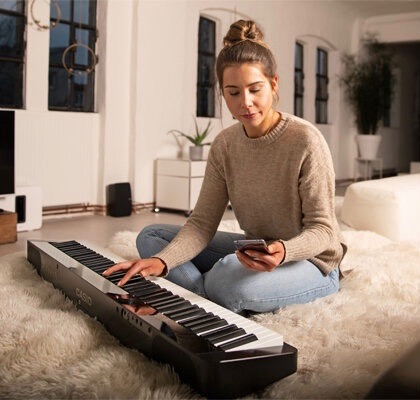 Casio Music UK, one of the world's most renowned producers of musical instruments is hosting free virtual keyboard and piano lessons via Facebook Live to help entertain people who are stuck at home.
The first 30 minute 'Get Started' lesson was streamed on Friday (17 April) at 10 am via Casio Music's Facebook page: https://en-gb.facebook.com/CasioMusicUK/. The lessons are transmitted each Friday and you can catch up on the whole course. Aimed at new learners, the series of planned lessons will teach players the basics of keyboard and piano – so a perfect introduction for people of all ages who have never played before or those who have a keyboard or piano at home, but who have never got around to lessons.
This latest activity from Casio forms part of its 'Learn @home with Casio' campaign, which has been launched to provide helpful resources for its community, particularly for individuals or families seeking ideas to keep themselves occupied and entertained during self-isolation.
As part of the campaign, Casio has given its community free access to online music lessons via the Casio Music Academy. What's more, the Casio community can also benefit from Casio's partnership with RockSchool, which provides a dedicated Casio digital sheet music book for learners to play their favourite popular music.
All these resources including the Chordana Play app – a free app for music learning games – have been brought together into an easy to access hub: music.casio.co.uk/learnathome. Casio's customers can benefit from these great solutions for learning at home, all discoverable in one place. Casio is asking people to post a clip of themselves performing with a piano or keyboard tagging Casio with the hashtag #athomewithcasio.
To join in at home via Facebook Live, please visit: https://en-gb.facebook.com/CasioMusicUK/
To find out how you can learn at home with Casio, head to: music.casio.co.uk/learnathome and join in using #athomewithcasio.