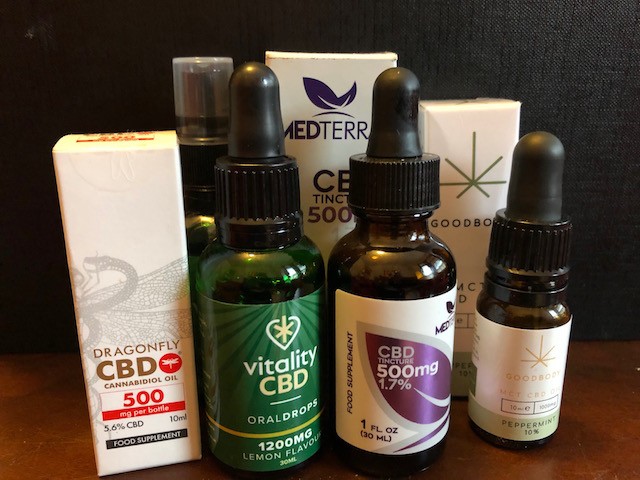 There has been a lot of interest recently in CBD Oils in helping to overcome anxiety, depression and pain. The CBD Oils are not the same as the cannabis which can now be prescribed for epilepsy. The oils do not contain Tetrahydrocannabinol (THC), the compound in cannabis that is illegal and produces a "high".
All the CBD Oils mentioned below are made to the highest standards and you can be confident in using them.
This was my introduction to CBD Oils when I when to Dragonfly's London launch. Dragonfly Biosciences have an impressive commitment to investing in a "from seed to shelf" approach which enables product integrity to be guaranteed and provides consumers assurance regarding product quality and traceability. I was interested to try this for my insomnia. The first night my sleep was worse but on getting out of be in the morning I noticed that my back pain (an old injury) was significantly better.
The downside to this oil is the awful taste. You need something to take the taste away immediately. I gave some to a colleague who had run out of her painkillers and she was pain-free for six hours. We both took the strongest version (1000mg £70).
Vitality CBD is another brand new range of premium CBD products, just launched in 2,000 Boots and Lloyds stores. The range includes a moisturiser which is lovely to use and a muscle balm which I'm passing on to someone else to try.
The real bonus for me is that this oil is flavoured with lemon which makes it far more palatable. I tried the Oral Spray (600mg) first but found that tended to "bounce" when used. The drops (1200mg) are stronger and more effective I have found.
Medterra's MedOil CBD Tinctures are made with 99%+ CBD and MCT oil in strengths of 500mg, 1000mg and 3000mg. Safe, affordable, easy to use each CBD flavourless tincture contains 30 servings and can be taken day or night, sublingually.
This range which is available from independent pharmacies features a CBD oil three strengths: Support, Original and Advanced, plus a CBD infused muscle balm and gel capsules.
I was sent Support (500mg) but would need Advanced judging from my better reaction to the other oils.
The one I was sent is peppermint flavoured with a strength of 1000mg. It hits the spot and definitely works for me. I am not totally pain-free with any of these oils but the do alleviate the pain without having to resort to strong and potentially habit-forming analgesics.
Available from their stores in Bath, Cirencester and Clifton as well as online.
I would recommend trying any of the above oils and experiences no adverse side effects. Apart from the pain relief I've also felt my mood lift at time. It is advisable to start on a lower dose and work up to the recommended maximum number of drops per day. However the higher the concentration, the higher the price.
All of the above CBD Oils are suitable for adults only and should not be taken by pregnant or breastfeeding mothers. The drops are used sublingually – under the tongue – although some state that you can add the drops to a drink. Sublingually acts faster and more efficiently. Do not exceed the stated dose.