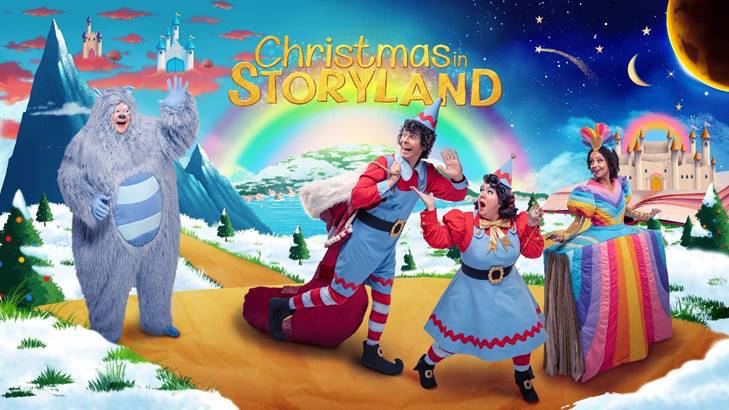 CBeebies will be spreading some festive magic this December with the return of the much loved annual Christmas Show.
Christmas in Storyland is set in an enchanting world, featuring a cast of CBeebies favourites, upbeat songs and dances and a range of characters including a yodelling Yeti and singing sea creatures to bring much welcomed Christmas joy to living rooms across the UK.
It follows the tale of Dillydally the Delivery Elf, played by Andy Day and his boss Head Elf Jiffy, played by Jennie Dale, as they set out on a quest to deliver a stocking full of Christmas goodies. Their journey will take them deep under the ocean, high up to castles in the clouds, via the solar system and through the snow-capped mountains. The show is narrated by nine year old Taiya Samuel, who voices JoJo in CBeebies favourite, JoJo & Gran Gran.
The story will also pay homage to some of the unsung heroes of 2020 with carers, teachers and grandparents all playing a part in the Elves' adventure.
Traditionally, the CBeebies Christmas Show is performed in the theatre, but this year has been filmed socially-distanced in a green screen studio, with animation and graphics bringing the enchanted world to life.
Cheryl Taylor, Head of Content for BBC Children's said: "This has been a tough year for families across the UK and we're really delighted that we're still able to deliver our own joyful Christmas gift to our very special audience. We know just how much family anticipation surrounds the CBeebies Christmas Show and the magic, joy and musical sparkle of this festive treat accompanies an uplifting story which will have a particular resonance in 2020." Christmas in Storyland will be available to watch on Saturday 12 December on the CBeebies channel and BBC iPlayer.
Families across the country will be encouraged to join in at home on the 12 December by taking part in a mass pyjama party. A build up show on CBeebies from 9am will get everyone ready for the main event, and families will be able to download song sheets, recipe cards and activities in advance from the CBeebies website, as well as turn themselves into Dilly Dally the Elf by using a bespoke Instagram filter, made just for the show.
Christmas in Storyland is an original show created by a team of writers, scripted by Ben Ward, produced by Anna Perowne with Vanessa Amberleigh as executive producer. It is made by BBC Children's In House Productions with all songs composed by Banks and Wag.