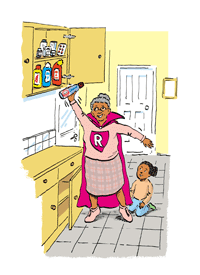 Child Safety Week – 24 to 30 June – is the Child Accident Prevention Trust's flagship annual community education campaign, raising awareness of serious childhood accidents and how to prevent them without wrapping children in cotton wool. This year's theme is "Be a Safety Hero".
New research revealed today shows that a quarter of parents (24 per cent) say their child had a close call before leaving school. Two-thirds (67 per cent) say they've had to save the day to prevent a serious accident. But parents play down their life-saving role and seriously underestimate the rescue service they provide.
The top hair-raising accidents that parents have saved their children from are:
stepping in front of traffic (54 per cent)
falling down the stairs (29 per cent)
suffering a serious fall from a highchair (20 per cent)
falling out of an open window (12 per cent)
drowning in the bath, in a pool or pond or in the sea (11 per cent)
being badly scalded by a hot drink (11 per cent).
Parents whose children had a close call with danger revealed an alarming number of near misses. Some 80 per cent recalled around five narrow escapes while 20 per cent reported up to ten close scrapes.
The Child Safety Week website has masses of advice and ideas about how to make your children safer and the Child Accident Prevention Trust is asking parents to select three of the parent pledges to be a Safety Hero.