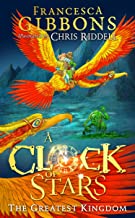 A Clock of Stars: The Greatest Kingdom by Francesca Gibbons and illustrated by Chris Riddle completes the trilogy which began with The Shadow Moth which I reviewed here.
In the second book in the series, Beyond the Mountains, Imogen and Marie return through the door in the tree to a whole new Yaroslav. Miro is king, but hates it. Anneshka is no longer Queen... and hates it.
When Anneshka hears a prophecy that she will rule the Greatest Kingdom, she seizes Marie, believing her to be key to fulfilling it, and heads over the mountains. Imogen and Miro chase after them, in hot pursuit. But what they find in the lands beyond will change everything again, and see them facing dangers they could never have imagined, both human and otherwise.
In the final book, The Greatest Kingdom, Imogen and Marie know it's bad news when Anneshka's hunt for the greatest kingdom brings her into our world. But Anneshka isn't their only problem. Mum's boyfriend, Mark, is sick and getting sicker, thanks to the monsters he accidentally carried home. Can the girls escape Anneshka and find a cure for Mark before it's too late?
Their quest will take them through the door in the tree and further than ever before, into the magical lands of Nedobyt beyond. But there is more to this kingdom than meets the eye. Miro, Imogen and Marie must learn its secrets if they're to save their families – and stop Anneshka once and for all...
A spellbinding book which takes the reader on a fantastic magical journey. With nearly 500 pages this is a book for confident readers who love to lose themselves within the pages of a truly thrilling adventure.
PWT rating: ♥♥♥♥♥
Published by HarperCollins Children's Books, A Clock of Stars: The Greatest Kingdom is available from bookshops and online.