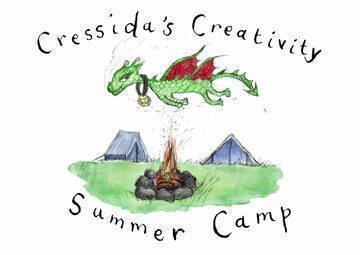 After a term of unparalleled disruption to children's education, Cressida's Creativity Summer Camp will inspire families to embrace books, reading and creativity at home over the summer holidays for entertainment, learning, as well as to support mental well-being. Cressida will be joined by an all-star line-up of leading authors and illustrators – including Eoin Colfer, Theresa Lola and Rob Biddulph – to encourage young creatives with writing workshops, drawing masterclasses and much more.
Marking Cressida Cowell's first anniversary as the Waterstones Children's Laureate, Summer Camp opens its virtual doors on Monday 6 July with Liz Pichon, David Almond, Dapo Adeola, Chris Riddell and Allen Fatimaharan sharing the tips and tricks behind their creative process, accompanied by an online exhibition of work-in-progress notebooks belonging to former Laureates Lauren Child, Michael Morpurgo and Anne Fine alongside Candy Gourlay, Yasmeen Ismail, Jim Field, Jackie Morris and many more, that reveal how their much-loved stories came to life.
This also marks the official launch of Cressida's Laureate Gallery where children will be able to exhibit their own work throughout Cressida's time as Laureate, in a showcase of creativity and imagination.
Throughout the week, Cressida's Creativity Summer Camp will be celebrating poetry, drawing, reading and writing, culminating in an event on Friday 10 July with Cressida, Onjali Raúf and Frank Cottrell Boyce answering creativity questions submitted by children throughout the week using the hashtag #CressidaSummerCamp.
Cressida Cowell, Waterstones Children's Laureate, said: "Every child deserves the right to be creative. Every child has the potential to be magically creative if they are inspired and encouraged. Ensuring that children are given this opportunity has been a passion of mine for many years; it is at the heart of my time as Waterstones Children's Laureate and my Reading Charter, and it has never been more important than now, given the huge disruption that children have faced over the pandemic. Creative thinking and creative confidence nurture essential benefits for everything we do: vital to all careers, to societal development and the building of empathy, and, of utmost importance now, in providing solace and supporting our own mental wellbeing and personal growth. I hope that my Summer Camp can bring the benefits of creativity to children all over the UK, as well as showcase a vital part of the UK's creative sector – which was growing at five times the rate of the wider economy pre lockdown – at a time when our cultural future faces great uncertainty."
CRESSIDA'S CREATIVITY SUMMER CAMP: 6 to 10 JULY 2020 Celebrating creativity and inspiring magic ideas To watch Summer Camp, see the full line-up and daily schedule of events, visit: www.childrenslaureate.org.uk
Monday 6 July: Inspiring Magic Ideas – A glimpse into the work-in-progress notebooks of leading authors and illustrators with Liz Pichon, David Almond, Dapo Adeola, Chris Riddell and Allen Fatimaharan revealing the inspiration behind their much-loved stories and their creative process. Cressida's "Laureate Gallery" celebrating creativity opens today, with children invited to submit their own work to be exhibited alongside that of former Laureates Michael Morpurgo, Anne Fine and Lauren Child as well as Candy Gourlay, Yasmeen Ismail, Jim Field, Jackie Morris and more. Further details.
Tuesday 7 July: Drawing Day Celebrating drawing and the art of illustration, Cressida will be joined on the second day of Summer Camp by Nadia Shireen, Marta Altés and Sarah McIntyre, who present a step by step drawing masterclass, plus a Summer Camp themed online art lesson from Guinness World Record holder Rob Biddulph.
Wednesday 8 July: Poetry & Performance Young People's Laureate Theresa Lola leads a poetry workshop with readings and tips from Laura Dockrill, Joshua Seigal and Joseph Coelho, plus Cressida will be reading some of former Laureate Michael Rosen's most loved poems.
Thursday 9 July: Reading Aloud Around the World - which marks the one year anniversary of Cressida Cowell's appointment as Waterstones Children's Laureate - international Children's Laureates from around the world will unite with Cressida for a Laureate readathon, with Jason Reynolds (US), Eloise Williams (Wales), Áine Ní Ghlinn (Ireland), Ursula Dubosarsky (Australia) and Manon Sikkel (The Netherlands), to celebrate the power of sharing a story.
Friday 10 July: Writing Masterclass Eoin Colfer, Zanib Mian, Sharna Jackson will be helping aspiring writers with a masterclass containing plenty of story starter ideas, advice on creating characters, and how to build an imaginary world. And to wrap-up Summer Camp, Cressida will be joined by Frank Cottrell Boyce and Onjali Raúf for a very special live event where they will answer as many questions as possible in a creativity brainstorm!