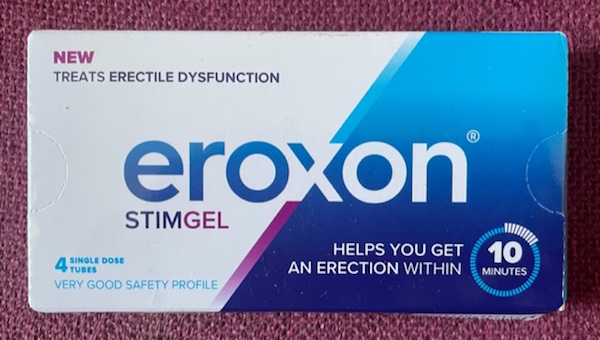 Don't let erectile dysfunction (ED) disrupt your love life… With ED affecting half of men over 40 and 26 per cent of men under 40, it's time to put an end to this bedroom saboteur. Eroxon®, the first clinically proven over the counter (OTC) topical erectile dysfunction therapy, helps men achieve an erection in just ten minutes, allowing couples to take back control of their sex life, fast.
The launch of Eroxon®, which is available without a prescription and acknowledged as a "game changer" for ED therapy, comes as new research conducted for Eroxon® discovered the sad reality of ED.
Eroxon® offers a breakthrough for sexual wellness, aimed at helping mild, moderate and severe erectile dysfunction. Eroxon® gel, available without a prescription, ensures sexual spontaneity remains intact thanks to its speed of action. Previous ED treatments can take up to an hour to work, potentially destroying any intimacy. Plus, studies show that almost 50 per cent of men actually gave up using them.
Erectile dysfunction is a growing concern; both age and obesity are factors in the number of ED cases, and with an ageing population that's also becoming more overweight, it's clear that this is a problem which won't be going away fast.
Sadly though, Eroxon's® research shows only one in three men with ED have raised the issue with their GP. However, the latest Eroxon® data found that every man with ED reported at least one other health issue. This included mental health problems, confirmed by 34 per cent of study participants, high blood pressure (30 per cent) and diabetes (22 per cent).
Four out of five men who experience erectile issues are overweight or obese and having a BMI of 30 or more triples the risk of ED. Overall, almost half of those who took part in the Eroxon® research recognised that carrying too much weight can be a factor in ED. With a population that is getting more overweight, it's important to try and take steps to lose weight where possible to not only improve health overall but reduce the likelihood of erectile dysfunction.
Eroxon®: The new topical breakthrough in ED treatment
Potentially changing the lives of millions of men who suffer from ED, Eroxon® gel is simply applied to the glans, or head, of the penis for fast results.
As a topically applied gel, Eroxon® activates a novel evaporative and cooling physical mode of action at the site of the application. It's an exciting and remarkable time for men, and their partners. Eroxon's® fast-acting ED topical therapy is meeting a demand which will only grow over time as the population ages.
Eroxon® is available over the counter and without prescription in the UK & Ireland from Boots stores and Boots.com from with a Recommended Retail Price of £24.99 for 4 single use applications.
GP and TV medic, Dr Hilary Jones is an adviser to the Eroxon® ED Information Panel (EEDIP),