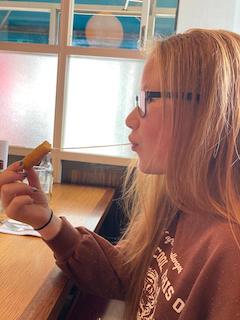 Strangely for a family who loves eating out, we have never visited at the Italian American restaurant, Frankie & Benny's but a trip to see the Black Venus exhibition at Somerset House offered an ideal opportunity as there was a restaurant just a few minutes away.
Our first impression was the really friendly welcome (I had been given a voucher for the review but the staff had no idea we would be reviewing their venue) and were directed to comfortable seating where there was room for Lizzie's buggy. We were straightaway offered a highchair (not needed yet!).
If you sign up for the newsletter on the Frankie & Benny website you get a voucher for their Pizza Garlic Bread – Harriet's favourite and ours too when we discovered it's vegan. In fact the menu caters for anyone with food intolerances or allergies. Harriet added another of her favourites – Mozzerella Sticks.
Our mains were: Chicken Burger with Mozzeralla ( I opted to have this without the bun), Arrabiatta and Carbonarra – all served piping hot. Delicious was our joint verdict. We had no room for a dessert.
As a family friendly restaurant, Frankie and Benny's is great with excellent baby changing facilities, good seating arrangements and a menu to suit all tastes.
PWT rating: ♥♥♥♥♥
Frankie & Benny's has announced two summer super saving meal deals available until the end of August:
Monday to Friday after 7pm allowing guests to have two main courses of pizza, burgers and or pasta dishes for just £20. This will give a saving of up to £15. Main courses available include the double bacon cheeseburger with fries, and the creamy chicken and 'nduja fettucine – both solid favourites with Frankie & Benny fans.
Two for the price of one main meals all day Sunday, saving up to £21.90. Dishes include the New York BBQ chicken loaded up with bacon, cheese, onion rings and fries, as well the classic Mac & Cheese (with, or without, bacon!).
There are 66 Frankie & Benny's locations – find your nearest restaurant.