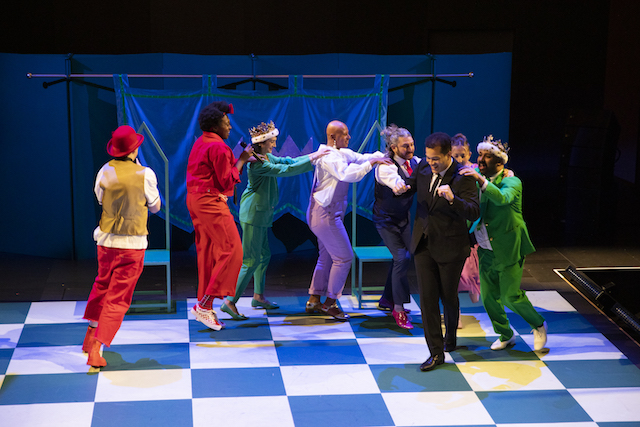 Adapted for young audiences, in terms of content and the length of the play, by Jude Christian, Hamlet at the National Theatre was a triumph.
Hamlet's dad is dead and the play begins with the funeral. His uncle has taken over the kingdom and marries Hamlet's mum. The whole world feels like it's turned upside down. A ghostly encounter reveals a dreadful deed has been done. Should Hamlet take revenge?
We saw this fabulous and energetic retelling of Shakespeare's most well-known tragedy in the Dorfman Theatre as part of a tour to state schools in Liverpool, Wolverhampton, South Essex and Sunderland.
This reimagining of the play encouraged audience participation – we were at times part of the action. Harriet, soon to be 12, was at the upper age limit and is a seasoned theatre-goer but after an initial "I'm too old for this" she cast aside her doubts and joined in with the best of them, surprising me by singing along to one of the songs. Fortunately no one complained!
At just over an hour it was the perfect length to keep young audiences totally engrossed.
I loved the set, costumes, the staging and performances. Kiren Kebaili-Dwyer performs the role of Hamlet alongside a full company including Efé Agwele, David Ahmad, Jessica Alade, Curtis Callier, Claire Redcliffe, Vedi Roy and Chanel Waddock.
Introducing young audiences to the world of Shakespeare, the production continues its tour into secondary schools for visiting primary school pupils and Year 7s to watch together. The tour will reach over 5,000 pupils across four weeks as part of the NT's commitment to introducing children and young people to theatre.
Education packages to support teaching of the production are available for primary schools and include workshops, training and teacher resources.
NT Learning supports primary teachers across the UK to inspire creative learning and theatre-making as part of the curriculum. State schools can now sign up to take part in Story Seekers, a free digital storytelling project, and the National Theatre Collection to access the best of British theatre in the classroom for free. To find out more about these opportunities visit NT Learning.
Future dates:
• 18 – 22 April – Schools' tour in South Essex
• 25 – 29 April – Schools' tour in Sunderland in partnership with Sunderland Empire