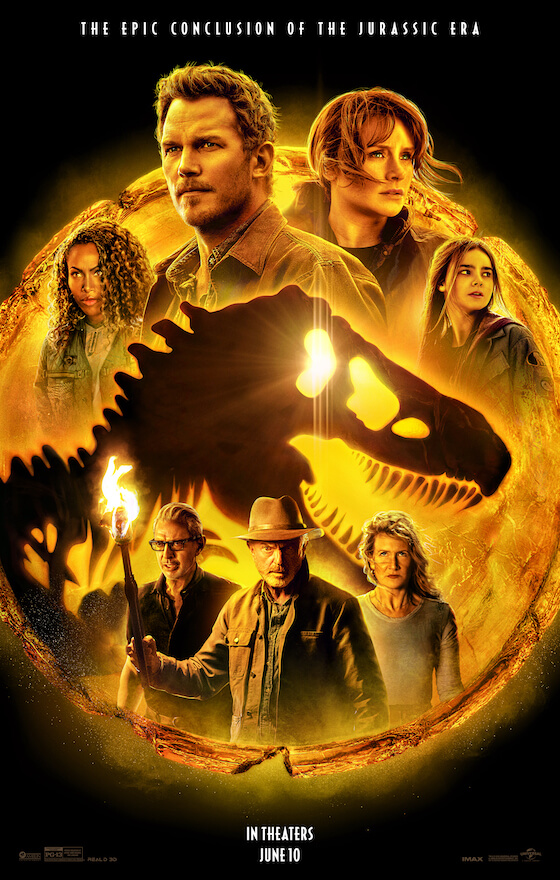 The new film, Jurassic World Dominion, is the latest and, we are told, concluding film in the much-loved dinosaur franchise. It brings together previous cast members in an action-packed – often frenetic – finale.
Dominion is set four years after Isla Nublar has been destroyed. Dinosaurs – both huge, aggressive carnivores and cute, affectionate little critters – now live alongside humans. But the balance of power is tipping towards the dinosaurs.
Enter Drs Ellie Sattler and Alan Grant (Laura Dern and Sam Neill) from the original 1993 Jurassic Park. Alongside Owen Grady and Claire Dearing (Chris Pratt and Bryce Dallas Howard) from the more recent Jurassic World films. Between them, will they save humankind while conserving a future for the dinosaurs?
Jurassic World Dominion has stunning special effects. The computer-generated dinosaurs are simply breathtaking; they're the most realistic and engaging they've ever been. As well as familiar raptors and T-rexes, we get up close to a host of other dinosaurs including the massive Gigantosaurus, the largest-ever land-based carnivore.
And for long-time fans of the films, it's like welcoming old friends when the characters from Jurassic Park reunite 29 years later (looking hardly a day older!). Even Jeff Goldblum makes an appearance with his trademark droll one-liners.
But the film is rated a 12A for good reason. There are lots of white-knuckle car chases, fights and violent scenes. And some of the larger dinosaurs are truly terrifying, especially when they're chasing the humans. Young children may well find the film too scary, even if they are accompanied by an adult.
Jurassic World Dominion (UPI) is at cinemas nationwide from 10 June.