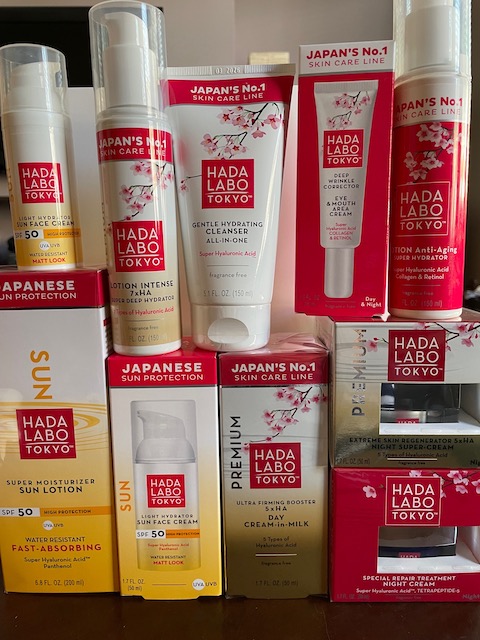 Hyaluronic Acid is the latest buzz work word the beauty industry and Hada Labo Tokyo™ have it in abundance and whatever stage of life you're at, there are products designed for you. The white range is for younger women, the red for older.
I put the Hada Labo Tokyo™ facial sun cream and body lotion to the test last year and have been using it ever since – with a Sun Protect Factor (SPF of 50) your skin is shielded agains UVA and UVB rays and the creams have anti-ageing properties for both body and face. The contain three super hyaluronic ingredients:
Sodium Hyaluronate – helps replenish moisture lost from the epidermis
Super Hyaluronic Acid – locks moisture into the epidermis to prolong hydration
Nano Hyaluronic Acid – helps to maximise maximise moisture retention and combats wrinkles and other signs of ageing
Hyaluronic acid is great for hormonal skin changes during the menopause. There are two new products joining the range: the Extreme Skin Regenerator 5xHA Night Super Cream recommended for very dry dehydrated and sensitive skin and the Lotion Intense Super Deep Hydrator.
If your skin is not hydrated enough it will become dry, flaky, tight and more likely to develop lines and wrinkles.
For a real facial treat I love using the Hada Labo Tokyo™ Moisturising Sheet Mask. After removing smooth in any lotion remaining on your face and I always wipe the mask over my hands.
Obviously to keep your skin in tip top condition you should also:
Wear sun protection
Follow a regular skincare routine especially with cleansing
Try to maintain a healthy sleep regime
Drink plenty of water
Eat a healthy diet
PWT rating: ♥♥♥♥♥
The Hada Labo Tokyo™ range is available from Superdrug both in store and online. Watch out for special offers and deals.