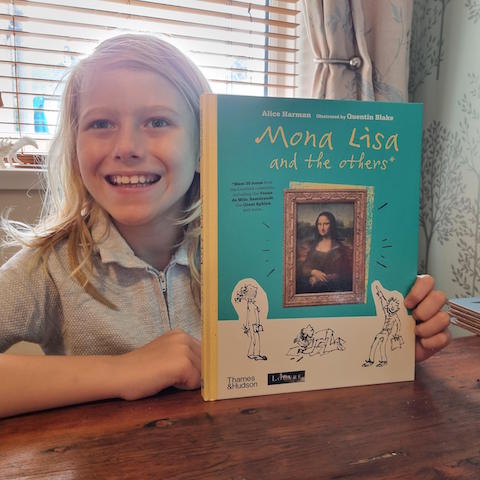 We all the know the Mona Lisa, but she's not the only star at the Louvre with a story to tell ... In this humours walk through the Louvre in Paris, you'll meet the subjects of 30 iconic artworks whose stories are equally as intriguing as the Mona Lisa's. From the Venus de Milo and Egypt's Great Sphinx to Vermeer's Lacemaker, they all have something to say.

Alice Harman's text is accompanied by full-colour photos of the artworks under discussion, perfectly complemented by new illustrations by Quentin Blake in black & white.
Mason has always been a big book fanatic but for a nine-year-old it's getting the right mix of interest to humour, facts to playfulness and this book did not disappoint.
Mason has had previous knowledge of Quentin Blake as he has read and re-read all Roald Dahl's books (his favourite by far is George's Marvellous medicine) so we thought we may be on a winner here, and boy was it?!
From the very first page where Mona Lisa is introducing herself, he was laughing and fully engaged, which to any parent is just a delight to behold. The good thing about this book is that he also learned a fair few facts from the artwork that hangs in the Louvre.
The book is not only engaging but funny also from Milo of Croton "Stop biting my Bum!" to the Monzon Lion "Don't call me big mouth!" it pokes fun at the artist but in a very kid friendly and endearing way.
Also for all those parents and teachers out there it features "Summer" by Giuseppe Arcimboldo… Teachers may know it as "Fruit face" which our son remembers doing in Year 2 and year 3 when his teachers got him to recreate the masterpiece out of real fruit, proving that teachers know what they
are talking about!
This is a great addition to the bookshelf, and I know it will come in handy for those art projects we inevitably get as homework. We would 100% recommend this for any school-aged child especially key stage 2!
Mason commented: "I really liked this book, it was very funny and I like that the illustrations are the same as Roald Dahl books. I'm going to take it into school to share with my teacher!"
PWT rating: ♥♥♥♥♥
Published by Thames & Hudson, Mona Lisa and the others* by Alice Harman and Sir Quentin Blake is available online and in bookshops.