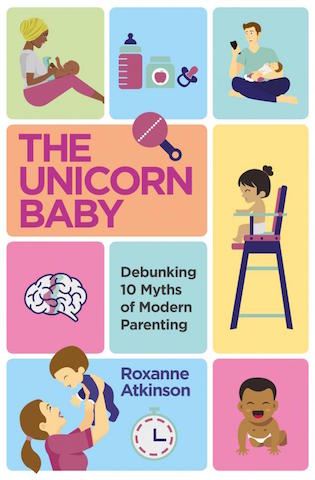 New parents are faced with a deluge of advice and information and many feel overwhelmed especially if their baby isn't performing Iike the mythical Unicorn Baby. This is the baby who feeds every four hours and sleeps through the night, sits at six months, pees pure gold and poops rainbows. Stressed and tired, they may ask or wonder, "Is my baby normal?"
In her book, The Unicorn Baby, Roxanne Atkinson uses her professional experience as a paediatric occupational therapist, and her experience as a parent who also didn't have a unicorn baby, to identify and debunk ten modern parenting myths that cause all kinds of anxiety for new parents.
Myth 1: Babies are all the same
Myth 2: A baby does not have to change your life
Myth 3: You need to get your baby into the perfect routine
Myth 4: Breastfeeding comes naturally
Myth 5: You should only feed your baby every four hours
Myth 6: You must teach your baby to sleep through the night
Myth 7: Your baby grows and develops every day
Myth 8: Your baby needs specialised stimulation classes and educational toys to thrive
Myth 9: Your baby must do tummy time for 20 minutes every day
Myth 10: Technology gives you and your baby an advantage
Roxanne Atkinson's aim is to help parents understand why their baby may not be behaving as they were told they would. Acknowledging that every baby is unique, this book helps new parents navigate the first year and shares some fascinating stories of other real-life babies.
The Unicorn Baby is packed with good sensible advice, tips and other parents' experiences. It is reassuring and empowering, written in accessible language.
PWT rating: ♥♥♥♥♥
Published by Jonathan Ball Publishers and available from book shops and Amazon THE UNICORN BABY - Debunking 10 Myths of Modern Parenting