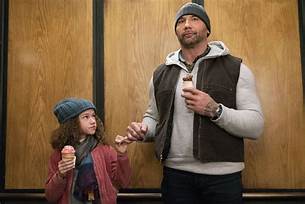 If you're looking for a great family film that's action-packed and very funny catch My Spy in cinemas from 13 March 2020.
Take one (huge) ex special forces soldier JJ (Dave Bautista) who finds it hard to adjust to the civilian world as a CIA Operative and one very sassy nine year-old Sophie (Chloe Coleman) who has just returned from Paris with her widowed mother and is discovering just how hard it is to fit in at her new school and you have the recipe for lots of fun and frolics plus some edge of your seat action.
Bautista is sent undercover on a surveillance mission to protect mother and daughter but Sophie discovers the hidden cameras and to buy her silence, JJ is blackmailed into teaching her how to be a spy during the course of which he, of course, has some hard lessons to learn including pinkie promises. Perfect chemistry between the two actors.
There are some fairly violent scenes especially at the beginning which Harriet (just coming up to ten) found distressing until I pointed out that although there was lots of shooting and fighting we didn't see any blood!
She was greatly impressed with the young actress and loved the obvious slapstick humour and she could related to the classroom dynamics, bullying and one-upmanship among parents.
There are some fairly predictable scenes and a few surprises but what shines through is the feel-good quality at the end.
PWT rating: ♥♥♥♥♥
Rating: 12A
Running time: 1 hour 39 minutes
Cast: Dave Bautista, Parisa Fitz-Henley, Ken Jeong, Kristen Schaal, Chloe Coleman
Director: Peter Segal
Producers: Chris Bender, Jake Weiner, Dave Bautista, Jonathan Meisner, Peter Segal, Robert Simonds, Gigi Pritzker