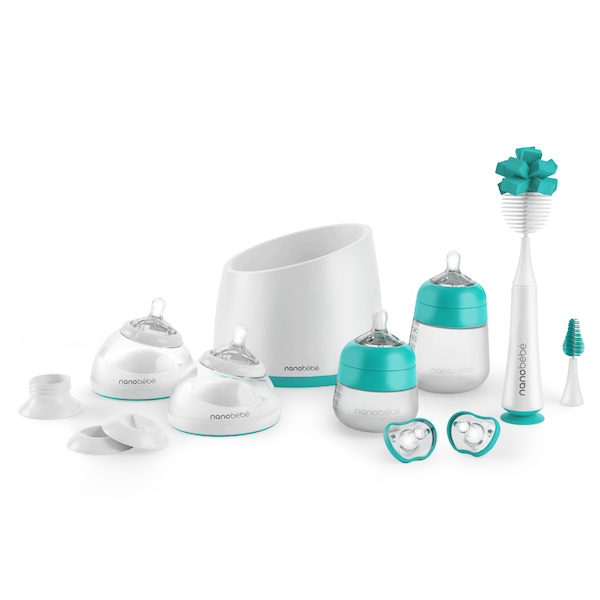 One of the most appealing features of the Nanobebe Complete Feeding Set is its ability to cater to both breast and bottle feeding. As someone who is considering a combination feeding approach, this is a critical selling point. It's comforting to know that I'll be prepared for whatever feeding method my baby prefers, especially when this can be so unpredictable. It is also important to me that my partner can get involved with feeding too, either through using expressed milk or formula, and the Nanobebe Complete Feeding Set offers bottles for either option.
Upon opening the box, it becomes evident that Nanobebe has placed a great deal of emphasis on creating products that are stylish, practical, and innovative. For example, it includes two breast-shaped bottles, mirroring the natural breast, which is intended to improve the feeding experience and preserve the maximum amount of nutrients to ensure the baby is getting the most from the breast milk.
Practically, the set offers versatility in how to store milk you plan to express, as you have the choice of breastmilk storage bags or the express adaptors that allow you to express straight into the breast milk bottles, simplifying the process and reducing the need for additional equipment.
A key feature of the Nanobebe products is their focus on using silicone, both for their soothers and formula feeding bottles. They have all been carefully designed to encourage the baby to keep the bottle teats and soothers in their mouth. Although I can't comment on how effective this is at this stage, they do look slightly different from your common market brand pacifiers.
The bottles look stylish and are dishwasher and microwave safe, which is essential when time is hard to come by with a newborn. The silicone bottles have been designed with a unique three-vent feature, making them an advanced anti-colic option. This was important to me, given that many market brands claim to have anti-colic technology. I wanted the bottles I choose to provide the best feeding experience for our baby. Additionally, as the baby develops fine motor skills, you can buy handles for the bottles, so the baby can hold the bottle themselves. However, I think it would have been nice to include a set in this starter kit, especially since Nanobebe has included a larger bottle size for when your baby is at the stage of having those bigger feeds.
As a first-time parent, an appealing feature of the Nanobebe products is their commitment to prioritising babies' health in the creation of their products and working with experts across a variety of specialisms to create products that actually work and enhance the feeding experience for both parents and babies. It can be difficult and overwhelming to know what to purchase for your baby, but this aspect of Nanobebe's core values makes it an attractive option over more well-known brands that dominate the market.
While this set offers great versatility for parents planning a combination feeding approach, one downside is that it may not be as useful for those who have already decided to exclusively breastfeed or bottle feed. It would be nice to see options or variations of this set that cater more specifically to these two scenarios.
In summary, the Nanobebe UK Baby Bottle Complete Feeding Set is a well-rounded and innovative option for new parents, offering flexibility with feeding choices and ease of use. It's an excellent choice for those considering a combination feeding approach and looking for a comprehensive starter set. I am confident that the set will be well used once our baby arrives.
PWT rating: ♥♥♥♥♥