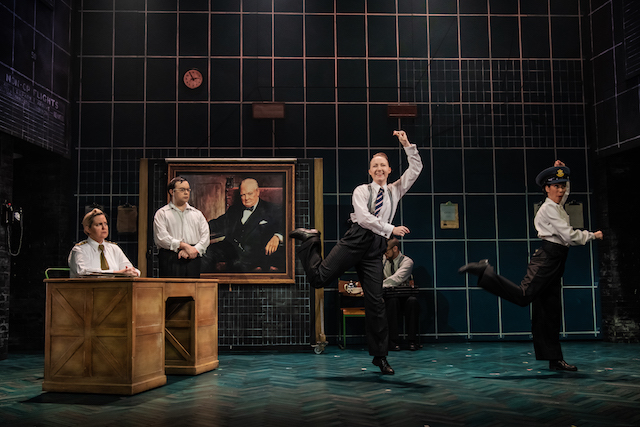 After five sold-out development runs at the New Diorama Theatre in 2019 and Southwark Playhouse in 2020, 2021 and 2022, plus an extended Riverside Studios run last summer, Operation Mincemeat is back, now at the Fortune Theatre in Russell Street until 19 August, 2023.
The year is 1943 and Britain is losing the war. Luckily, "those who lead" are about to gamble all the country's future on a stolen corpse.
Billed as Singin' in the Rain meets Strangers on a Train, Noel Coward meets Noel Fielding, Operation Mincemeat is the fast-paced, hilarious and unbelievable true story of the twisted secret mission that won World War II for the Brits.
The question is, how did a well-dressed corpse wrong-foot Hitler? This is exuberant, exciting and hysterically funny musical theatre at its best with a cast of five super-talented actors – Natasha Hodgson, David Cumming, Zoē Roberts, Jak Malone and Claire-Marie Hall – taking all the parts from a Spanish corona to German officers and naval ratings. The audience is bowled along through a series of quick changes that are sometimes outrages and at other times simply splendid.
I loved the sets by Ben Stones who also designed the costumes. Operation Mincemeat is the début show of Spitlip a company founded by David Cumming, Felix Hagan, Natasha Hodgson and Zoë Roberts working collaboratively to fuse together anarchic physical comedy, fast and furious gags and a brilliant soundtrack.
The stadning ovation and curtain calls were certainly well deserved at the performance I went to see.
The guidance says suitable for children aged six plus. Personally I'd go a little older but that does rather depend on the child.
PWT rating: ♥♥♥♥♥
Operation Mincemeat is on at the Fortune Theatre, London until August 2023, booking here
£25 tickets are available Wednesday to Saturday.