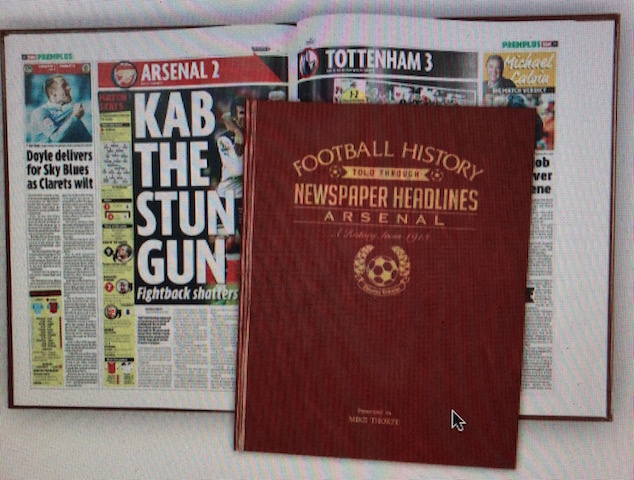 I don't know about you, but finding original and pertinent Christmas and birthday gifts has become something of a mission. It's always a wonderful when you can give a present which you know will be perfect for and bring joy to the recipient. That is why I love these Historic Newspapers football books – perfect for the football fan when you can't afford to buy them a season ticket and they've already got the scarf and wooly hat. The pages have a great "newspaper" feel to them and are bound to please fans.
With this range of newspaper books the footie fan can relive some of the most iconic and unforgettable moments in the history of their team from the beginning of the last century to this year. Historic Newspapers' bespoke football books don't just make it possible to view the past, you can explore it. Dip into any year which takes your fancy or start at the beginning and read chronologically.
Each book comes in a beautiful presentation box and is specially bound by hand. Each contains rare newspaper coverage of your chosen team. The recipient's name is also gold embossed on the cover, and a personalised dedication inside, meaning these football history books make unique gifts that can be looked back upon time and time again.
From legendary cup triumphs, great goals, dramatic promotions and thrilling victories, a football newspaper book documents content from the most prolific games, including Premier League, Football League and Scottish League teams with extensive and detailed reports.
Available in a range of leather and leatherette covers, colours and special editions, the books are tabloid size, necessary to house the extensive coverage. A personalised football book for your team lets you relive the moment as if you were witnessing the games unfold in front of your eyes, through first-hand accounts of those present at the games at the time.
These books are a treasure trove for the clubs' followers – a delight to behold and keep for reference. I'm rather hoping my local team, Dulwich Hamlet, makes the grade soon!
PWT rating: ♥♥♥♥♥
Book prices begin at £39 with extra for a leather rather than leatherette cover and can be found on the Historic Newspapers website.