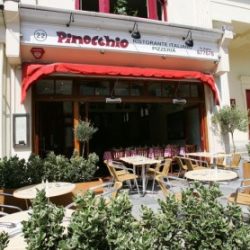 Pinocchio is Brighton's oldest Italian restaurant and, in fact, the last time I went there was about 20 years ago. It's a family-run business which is popular with Brighton's residents. Due to Covid-19 they now have more tables outside the next-door church to accommodate diners in a socially distanced way.
We met my cousin there on the second evening of our mini-staycation in Brighton and I had booked in advance.
The staff were cheerful and reasonably attentive but when our meals were brought to the table, my salad was missing which seemed to confound them, and we had to ask for cutlery.
Harriet had a child's portion of Fusilli all Arrabbiata – waiter was surprised she'd chosen such a spicy dish but in fact it was milder than she was used to. Martin had a vegan pizza and I had Pollo Balsamico. Mine was not piping hot and, as said above, I had to ask for my salad.
In all it was a passable meal but nothing special.
When the bill came I didn't look at it properly (very unlike me!) and asked about a tip which they added on for me. After I paid I realised the tip had already been included, so I wasn't impressed.
I appreciate that restaurants as only just reopening to welcome customers and this horrid pandemic has affected us all – businesses included – but I was disappointed with our experiences at Pinocchio's.
Such a shame as I had such fond memories.
Perhaps they are now improving their service.
Pinocchio's is at 22 New Road, Brighton, East Sussex BN1 1UF Telephone: 01273 677 676