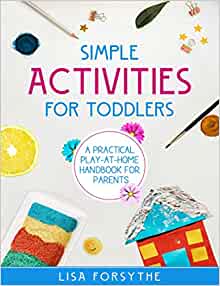 Sadly when many adults become parents they feel at a loss as to how to play with and entertain their babies and toddlers little realising that for their offspring they are fascinating.
So for parents who need some support in organising play for little ones, teacher Lisa Forsythe – with the help of her son Thomas – has produced a book full of ideas most of which can be produced and recycled from items around the home.
Remember that all play is educational so it's time to enjoy your toddler time recreating Lisa's games including everything from a farm sensory tray to emotions and musical letters. Each game is fun and will be preparing your child for nursery and school.
With Lisa Forsythe's book you'll never be at a loos for what to play. Available from Amazon:
Simple Activities For Toddlers: A Practical Play-At-Home Handbook For Parents
Lisa Forsythe has over 15 years of experience as a teacher across Australia, NZ and the UK. Since becoming a mother to Thomas she has focused her time on developing simple activities that develop foundational skills toddlers need to learn before engaging with more complex concepts and understandings. This is a practical guide for parents that creates opportunities to bond with your child and make beautiful life-long memories.