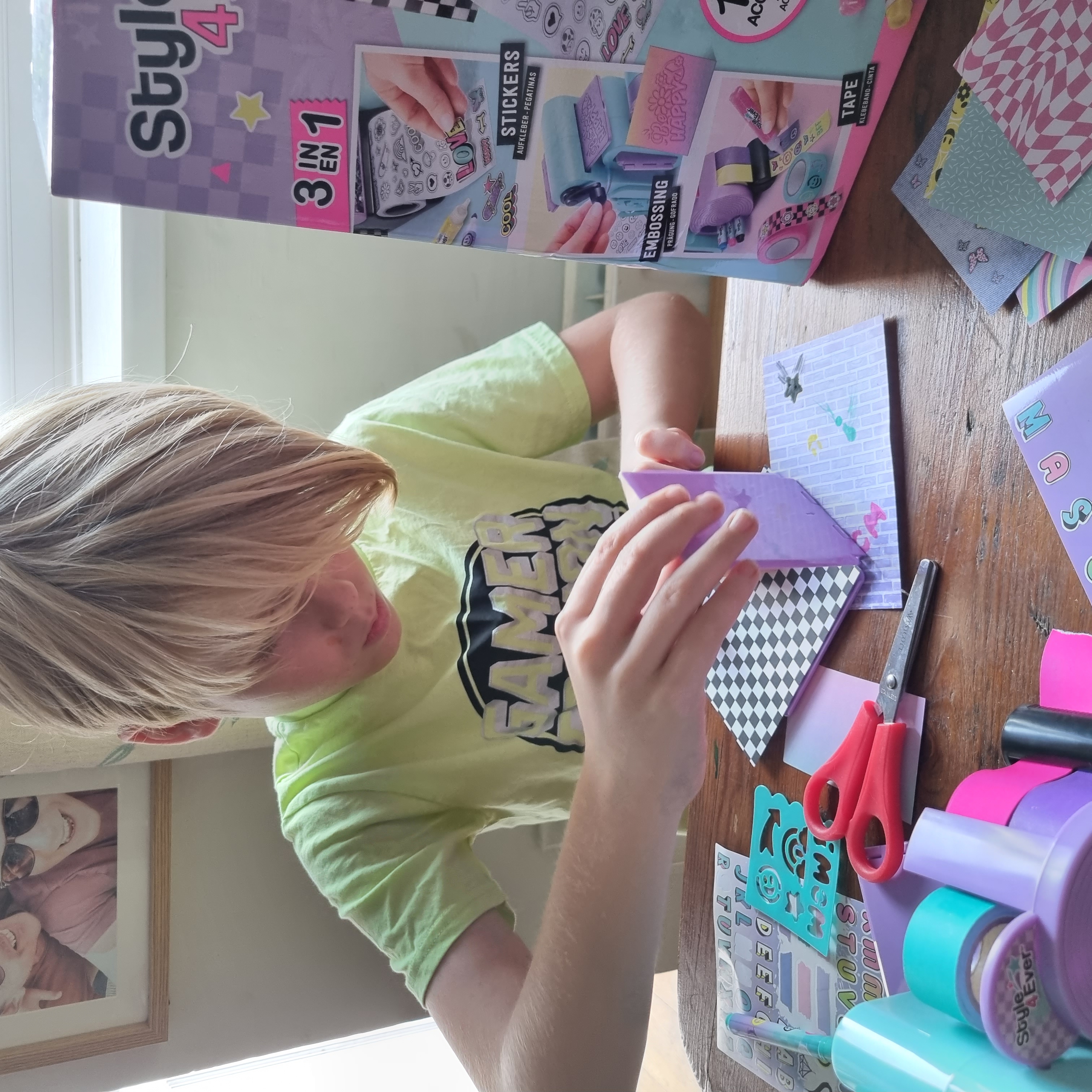 The Style 4 Ever 3-in-1 Scrapbooking Station kit is easily built and comes with full colour instructions. It's bright and eye-catching and our nine-year-old was thrilled when we showed him it. It comes with so many things, 150 accessories, to be precise! We couldn't decide where to start so we just let him go wild.
Here's some of the things that it comes with:
A notebook/ scrapbook

Stickers

Tape

Pens

Glitter glue

Embossing station

Printed decorative sheets

Stickers to colour (a sticker colouring station)
Within minutes his name was embossed and stickered on the front of the notepad and he was embossing his first sheet with the word WOW!
This kit kept him entertained for hours and he didn't want to put it away, which is a very good thing especially as our child has a very limited attention span.
One of the good things is that it's practically mess free. There is glitter glue that needs some monitoring but with the handy station there is a compartment for all of the accessories, meaning it can quite easily sit on his desk in his room and he can use it at his leisure.
We, as a family have had so many crafting sets, that have lasted a few days but this one is still going after two weeks! For this reason alone we parents think it's brilliant. It's amazing to see our son just crafting away, and using his imagination to decorate his notebook and he's even started decorating his Cub's homework.
Our son's opinion: "It's really good, my favourite part is the embossing machine. It's very clever!"
PWT rating: ♥♥♥♥♥
Made by Canal Toys, The Style 4 Ever 3-in-1 Scrapbooking Station is available from Smyths Toys.