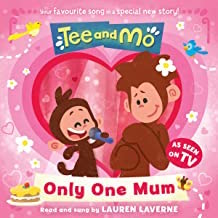 Celebrating International Women's Day with a review of Tee and Mo: Only One Mum from Harper Collins Children's Books.
This new picture book from the popular TV series featuring Tee a three year old monkey and his first time mum, Mo is the perfect Mother's Day gift according to the publishers. Not so sure about that but it is a charming story about Tee working out what he can give his mother to make her feel special. His friends help out and in the end Tee gives Mo a song which he sings – to the best mum in the world.
You can help you children to learn the song too as the words are reprinted at the end of the book plus you can scam the QR code on the last page to hear the sone sung by Lauren Laverne who says, "Some days I think singing for Tee and Mo might be my favourite job of all."
Tee and Mo: Only One Mum is heartwarming treat for young children – and those who read to them.
PWT rating: ♥♥♥♥
Available from bookshops and online.