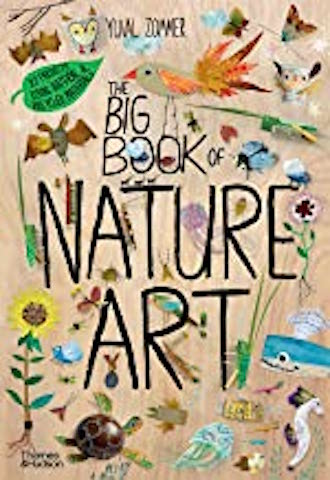 This is a 'Wow' book from the start. The Big Book of Nature Art by Yuval Zoomer is a wealth of wonderful projects for people of all ages to enjoy making from materials they would find naturally in gardens, parks and open spaces or from recycling. It is like a recipe book for making items built up from natural ingredients such as twigs, cones and a wide range of other materials.
At first glance the book appears to just provide illustrations and instructions to make lots of different animals from various environments – land, sea and air. But there's even more to find and discover within its pages as you investigate further. The author starts from a similar premise to Pablo Picasso and develops this to "Every child is a nature artist". Each activity only takes four steps and adults are encouraged to allow children to use their imagination and develop independence by making choices. The main theme throughout is fun and creativity. And it works.
The Big Book of Nature Art is beautifully and thoughtfully put together. The illustrations are magical. Be aware it's important to check what's required before attempting an activity; the children need to have foraged outside for the necessary items to avoid disappointment. You will also need to use other craft items such as glue, card, wobbly eyes. There's a useful "You will need" section at the beginning of each activity to help.
Wherever possible the book uses repurposed or recycled items – old pencils, kitchen roll inners for example. There are subtle opportunities for learning within the structure of the book too.
Often authors will overlook the need for contents and index pages to encourage children to explore what they are looking for, and develop research skills. Not this one; it skilfully incorporates both. For each activity there's also a "Did you know?" fact. For example: Did you know? Jellyfish existed hundreds of years before the first dinosaurs. Very topical with all my grandchildren. I personally liked the fact about penguins and pebbles. My grandchildren also liked the "Find Wally" theme. Only this time they were asked to find 15 ants within the pages of the book rather than Wally.
This book is part of The Big Book of... series and I will certainly be looking to purchase others in the series in the near future.
With Easter and Summer fast approaching I highly recommend it to entertain children and adults alike.
PWT rating: ♥♥♥♥♥
Published by Thames & Hudson, The Big Book of Nature Art by Yuval Zoomer is available online and from bookshops.