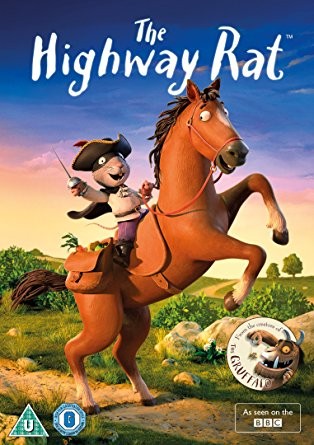 From Magic Light Pictures, Oscar-nominated creators of the hugely successful The Gruffalo and Stick Man, comes The Highway Rat – the charming story based on the richly imaginative book written by Julia Donaldson and illustrated by Axel Scheffler.
The Highway Rat tells the tale of a ravenous rat who craves buns, biscuits and all sweet things. Tearing along the highway, he searches for sugary treats to steal from anyone he meets, until his sweet tooth leads him to a sticky end.
Featuring the voices of Rob Brydon, Frances De La Tour, Tom Hollander, Nina Sosanya and David Tennant, this beautifully animated film is a swashbuckling adventure of bandits and biscuits the whole family will enjoy.
There is always a special kind of magic in a Julian Donaldson story and this translates beautifully into this DVD. Harriet and I were entranced as we watched the rat's story unfold. Its gentle humour and captivating animation are perfect for a young audience and their parents.
PWT rating: ♥♥♥♥♥
We delighted to have three copies of the DVD to be won. Just answer this simple question:
Who is the author of The Highway Rat?
Please write The Highway Rat in the subject line of your email and include all your contact details.
This competition is now closed.
Winners will be the senders of the first three correct emails opened at random after 12 on Monday 19 February, 2018. Only one entry per household.
The Highway Rat [DVD]
is available now on DVD, courtesy of Entertainment One.