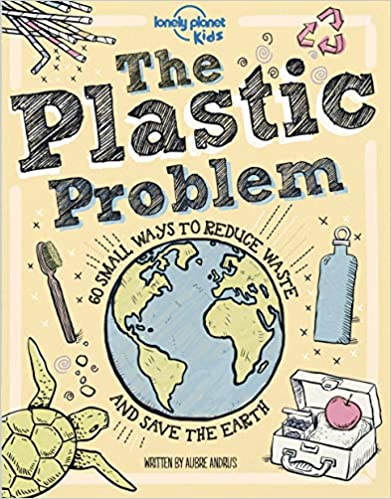 The Plastic Problem – 60 small ways to reduce waste and save the earth written by Aubre Andrus from Lonely Planet Kids is an excellent book aimed at nine to 12 year-olds but adults would do well to read it as well.
Here are 60 things we can all do easily and children will have great fun policing plastic consumption.
I have been working hard to reduce plastic at home but sometimes have bought items that I thought would be useful which turn out not so. As for many people the first to go was buying water in plastic bottles. I new have a selection of reusable bottles. However I know people who buy water in a plastic bottle the justify this by refilling. Don't. One of the first things you learn in this book is that this type of plastic – PET or Pete – is safe to recycle but not to reuse as it absorbs bacteria and and flavours.
The Plastic Problem is bursting with facts and handy tips that will engage and inspire young readers. It explains what is biodegradable and how long some substances take to do this – a plastic water bottle can take up to 1000 years. So much better to refuse than recycle.
The book contains dozens of easy, practical and effective ways to reduce our use of plastic both in and out of the home. The simple actions found in this practical guide will help protect our world and inspire readers to get their family and friends to do the same.
A perfect substitute for an Easter egg.
PWT rating: ♥♥♥♥♥
Lonely Planet is offering five copies to be won by our readers. Just answer this question:
Why shouldn't you reuse plastic water bottles?
Please write The Plastic Problem in the subject line of your email and include all your contact details. Only one entry per household.
This competition is now closed.
The winners will be the senders of the first five correct entries opened at random after 12pm on Friday 27 March, 2020.
The Plastic Problem: 60 Small Ways to Reduce Waste and Help Save the Earth (Lonely Planet Kids)
is available from Amazon and bookshops.