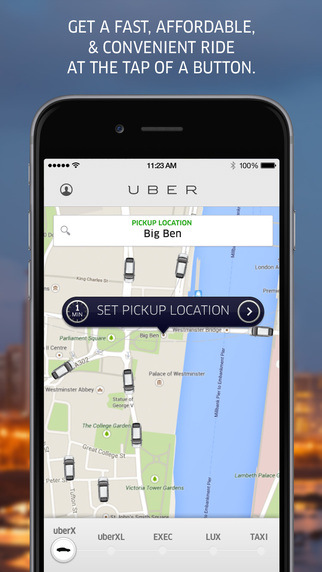 My daughter Olivia, who uses the minicab service regularly, introduced me to Uber – when you recommend someone you and they get a free £10 ride so it's worth joining even if you only use them once. However in my experience you'll probably get into the Uber habit.
You simply download the Uber app from Apple Stores or for Android register you details and a debit or credit card for payment. When you need a car you just jap the icon and set your pick-up address and your destination.
So far I have been really impressed (apart from one surge fee when there was a bus strike). On one occasion the driver cancelled in error as I had just got into the car and I had already been invoiced. Uber refunded almost immediately.
Returning from our holiday after a horrendous journey with Ryanair, I was delighted to find that there was an Uber car already at Stansted Airport and our drive home was fast (early in the morning) and good value price-wise.
For families with teens, Uber would be really useful as they could have the app on their smart phones which could be paid for with a parent's card, offering peace of mind and safety.
Uber is available throughout the UK.
For a free £10 trial you can use this promo code: annec535
PWT rating: ♥♥♥♥♥