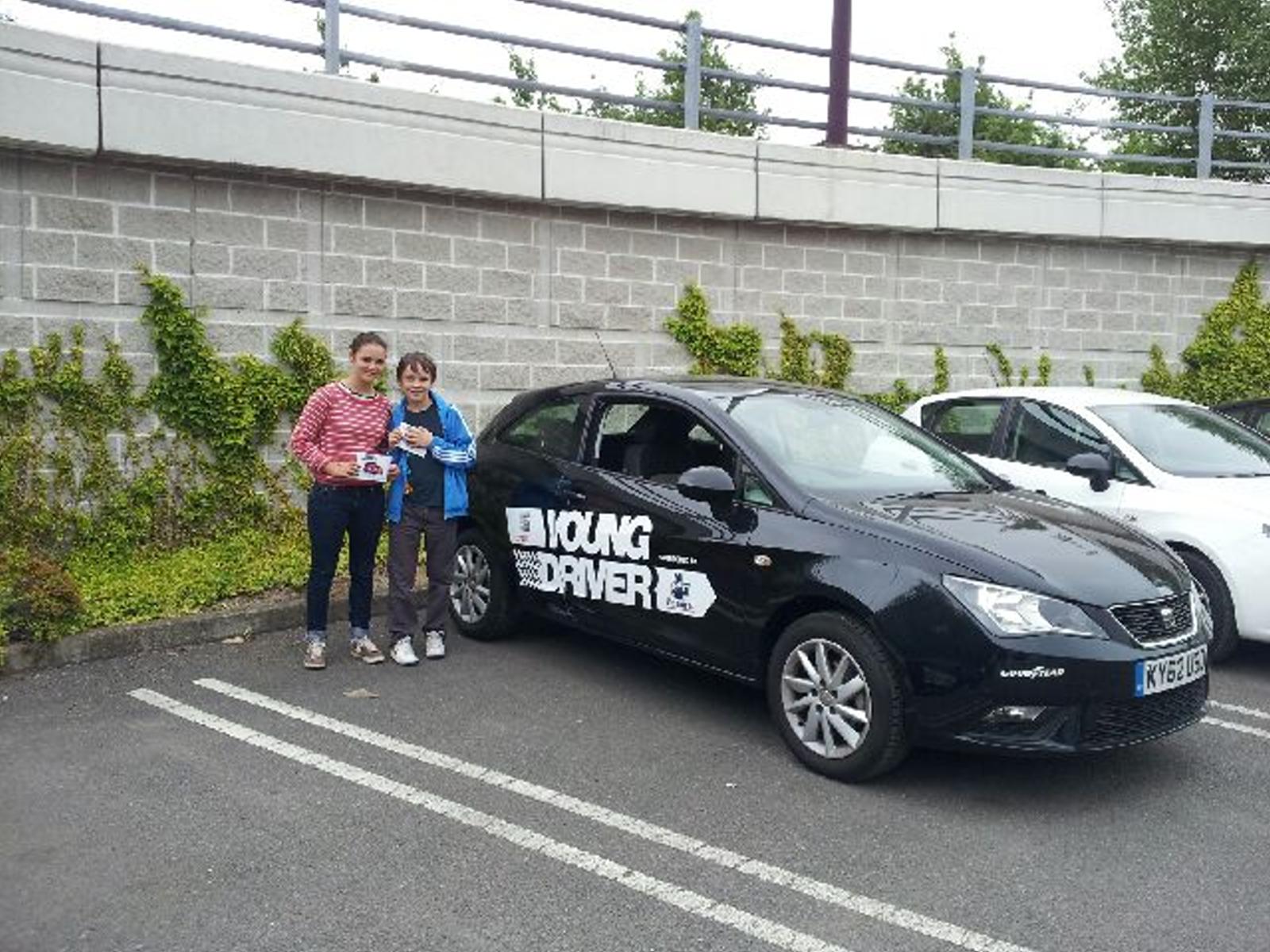 Mathilde and Joe went for a drive on Saturday. They had a half hour slot booked with Young Driver. Joe (aged 12) said he was nervous. Mathilde (aged 15) said she wasn't nervous at all. The venue was Bluewater shopping centre. A section of an outdoor car park provided the road space.
There were about half a dozen small Seat cars on the road at any one time. The Young Driver office was an old double decker bus. Mathilde and Joe were allocated their instructors by the member of staff in the office, who was friendly and helpful.
Everyone is instructed to stand behind a barrier, as safety is obviously paramount. They were taken off to their cars with the instructors; Joe in particular looked very small behind the wheel. I witnessed quite a bit of kangaroo driving, but on the whole they seemed to be driving around quite smoothly. This no doubt was ably assisted by the dual controls of the driving instructors.
After 30 mins on the road they declared that they had had a good time. Joe said it was fun and that he felt very safe despite his original anxiety. Feedback from Joe's instructor was that he was too heavy on the clutch (yes they were driving gear cars not automatics!). Mathilde was told to avoid getting into bad habits early on, she was already crossing her hands over when turning the wheel at corners! Mathilde who in less than two years could be learning to drive, is very keen and the Young Driver session gave her encouragement to think about learning to drive when she hits 17. Both commented that their instructors were very good, patient, calm and cheerful.
I think that the Young Driver sessions are ideal for those aged 15/16 year who are keen to learn to drive early on. They are limited in what they can offer, no hill starts, speed limit of 10 mph, no bikes, pedestrians, buses , lorries etc. A few lessons to build up confidence would be helpful and these could make an ideal gift for a 15 or 16 year old. Younger children are still so far off from the real thing that I am not sure how useful it is to have these lessons, unless just for fun.
Many parents spend £30 for music lessons per week, so if your child's passion is cars and driving then maybe more frequent lessons would be an option. The AA website says on road driving lessons are approx £24 per lesson. It also states that the average learner needs 47 lessons to pass their test! Young Driver sessions are therefore not a cheap option at £29.99 per session. Their costs are not a surprise as they do use proper cars and proper instructors and can you imagine how much their insurance must be!
PWT rating: ♥♥♥♥♥ for older teens.
Full details of where and when the sessions take place can be found at Young Driver.