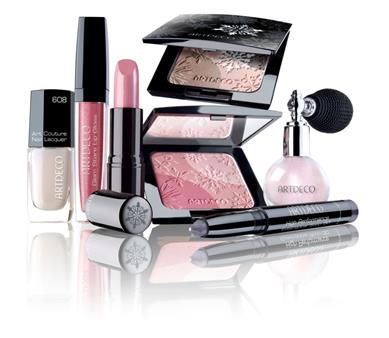 One of the interesting consequences of reviewing beauty products is that I often get sent cosmetics or colour combinations that I wouldn't normally choose or consider for myself.
So although I don't really see myself as a "sparkly" type, I must admit to being totally won over by the latest Arctic Beauty Collection from ARTDECO that I have had such fun using.
The central product of the collection is the Arctic Beauty Dust, £22.30 which comes in a vintage glass bottle and is perfect for spritzing on the chest, arms or hair for added sparkle and shine. The glitter powder is infused with a subtle hint of vanilla.
The platinum coloured Sparkling Lash Drops, £11.20 (something I have never before considered) provide a glamorous touch to your party look. The transparent texture with micro fine silver particles spreads easily, dries quickly and leaves a lightweight and long-lasting glitter effect. This gel can be applied directly to lashes or be used as a top coat over eyebrows, eyelids, cheeks and neckline. Perfume-free and dermatologically approved.
The Glam Stars Liquid Eyeliners, £7.60 have glitter particles embedded into a transparent gel texture. The brush of this perfume-free liquid liner allows for easy and precise application. Dermatologically approved, the eyeliners are available in my favourite silvered teak (No.10) and platinum (No.11).
Gluten and mineral oil free, the Glam Stars Lip Glosses, £12.20 make lips shimmer and shine. The pleasantly scented gloss with flock applicator provides full, even gleaming lips with high durability and optimal opacity. Available in three shades: (No.31) frozen orchid (the one I wear most often), frozen rose (No.33) and frozen flower (No.35). My favourite is xx
The Arctic Beauty Blush, £22.30 offers the perfect combination of three delicate shades with a light shimmer. The blusher leaves a fine finish on the cheeks and the elegant texture is packed with enhanced colour brilliance and durability. This is my absolute favourite and constant companion.
The elegant Arctic Beauty Highlighter, £22.30 in a high-quality mirror box compact (as is the blusher) combines a highlighter and an eyeshadow powder in one. Light-reflecting pigments and fine pearl texture ensure high colour brilliance and a silky shimmer.
The Art Couture Nail Lacquers, £10.50 are high-tech nail varnishes that use patented ingredients to ensure a long-lasting and brilliant shine, while the high pigment content ensures a true rich colour with high opacity. The clever gel-based film-forming agent ensures a short drying time and the precision length, width and rounding of the Tynex fibre brush, guarantees a high level of precision for flawlessly painted nails _ great for someone like me who is always painting her nails in a rush! Available in four shades: crushed ice (No.04), frozen land No.08), pearl (No.608) and ice flower (No.955).
Each of these products would make a beautiful gift or stocking-filler and you can always treat yourself to some extra glamour.
PWT rating: ♥♥♥♥♥
The Arctic Beauty Collection is available online from ARTDECO and from selected Beauty Salons and Spas nationwide or call 028 9061 7403.