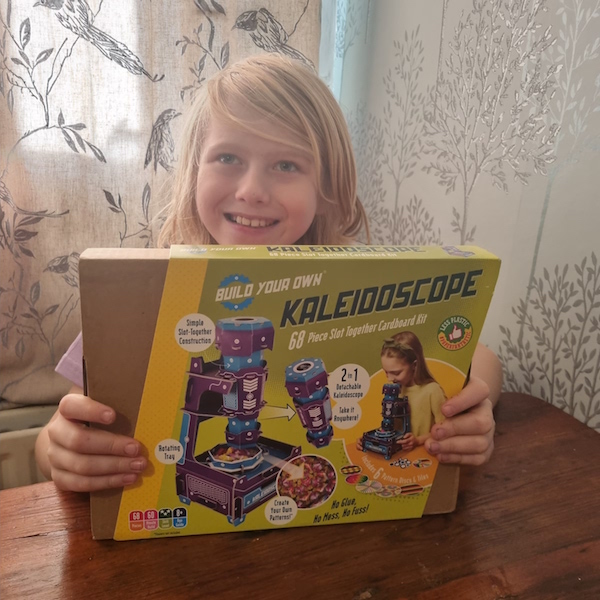 "Watch vibrant colours and patterns change before your eyes with Build Your Own's new eco-friendly, STEM-inspired Kaleidoscope!" Is the description from BYO and I must say that I loved playing with kaleidoscopes when I was younger so why not make our own? BYO kits have definitely cornered the market on Sustainable plastic free toys which involve developing children's STEM skills such as creativity, problem-soling, critical thinking, curiosity, and engineering-design skills.
Our build was exactly 58 minutes, so it definitely lived up to the 60 min build mark, with some bits that our nine-year-old struggled on that required grown up help, and some bits that the adults struggled with and needed our son's help. I put this down to our chunky fingers.
The instructions are well thought out and easy to understand but, on the downside they are black and white. There was a few instances when we didn't know which side up a piece was meant to go, if you have a two-sided object it needs to be quite clear on which side is up and which is down. In our opinion a colour instruction booklet would make these types of dilemmas non-existent.
Out of all the BYO kits we have built this by far is the most sturdy and feels like it will last an eternity, even with our rambunctious nine-year-old.
We have built quite a few of these kits before. The Marble run, The pinball machine, The pirate ship, and the Pteranodon and out of the larger kits the pinball machine was our all time favourite and is still being played with to this day (six months after we built it) which is no mean feat especially as these kits are made from sustainable and ethically sourced cardboard and paper. But it was going to take something very special to knock the Pinball Machine of the top spot.
I am pleased to say our son was absolutely besotted and in his words "This is the best one we've ever made" and I have to agree. It was far less challenging than some of the others, and the end result wow! The six discs that come with the kaleidoscope are amazing, offering different effects for each one. Son even decided to create his own discs, which I think is a really great design element!
We would definitely give this a big thumbs up!
PWT rating: ♥♥♥♥♥
Recommended for age eight plus with some adult supervision. £19.99 available from www.buildyourownkits.com