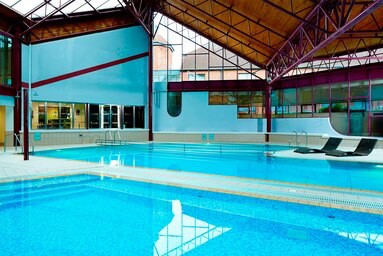 Adila at Waltham Abbey Marriott Spa was very welcoming when we arrived. She must have seen our expressions when we saw that baby swimming classes were taking place in the pool. She had tried to ring to explain that this was a feature of a Monday booking. It wouldn't have made much difference as that was the only day we could get together before Christmas.
The changing room, which was rather cramped to begin with, was overrun with babies and toddlers and changing mats so it wasn't a great beginning to our day.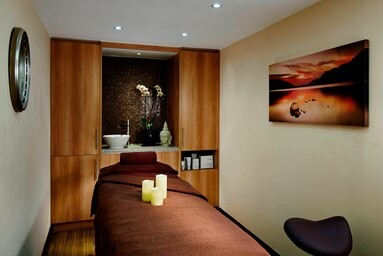 We started off in the hot relaxation pool (not a jaccuzzi as apparently they need to be emptied every two days) and then tried the sauna and steam room which both overlooked the pool.
The noise from the classes was not conducive to reading and chilling so when Christine went for her treatment – a back massage – I went to sit in the small reception area.
Christine decided to do the same while I went for my pedicure (there is only one treatment room). My pedicure was good and the spa uses Jessica products which I like.
By now it was time for lunch and we braved the hotel bar in our bathrobes. The staff were competent and friendly and we both ordered fish and chips which were freshly cooked and delicious.
The afternoon was much more relaxing and we enjoyed the facilities.
Obviously one of the drawbacks of a spa in a hotel it that it is less likely to be "adults only" which many of us appreciate. A young boy came in with, I assume, his grandparents who allowed him to use the sauna and steam room when it was expressed signed as for over 16s. No one was monitoring this and it's something to consider when booking.
My rating might have been a three but the staff both in the spa and bar saved the day and we were given a voucher to return to the spa (no treatments) as we had been disappointed.
PWT rating: ♥♥♥♥♥
For more information and offers visit Waltham Abbey Marriott Spa
Waltham Abbey Marriott Spa, Old Shire Lane, Waltham Abbey EN9 3LX
Tel: 019927 04496