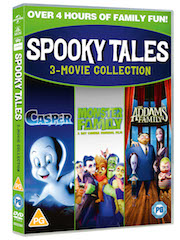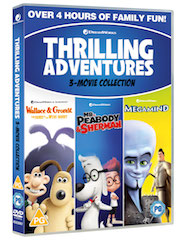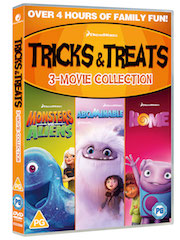 Just in time for Halloween, some of Universal Pictures Home Entertainment's Spooktacular family films are now available in brand new DVD collections.
To celebrate, we are giving one lucky winner the chance to grab their copies of these three collections for their Halloween movie nights at home.
The "Spooky Tales" Collection tells three favourite tales of friendly ghost Casper, the first family of Halloween The Addams Family and the Wishbone's in The Monster Family.
The "Thrilling Adventures" Collection will take you on unique journeys with supervillain Megamind, genius scientist and son Mr Peabody & Sherman, and everyone's most loved inventor duo in Wallace and Grommit: Curse of the Were-Rabbit.
The "Tricks & Treats" Collection introduces the world the some of our favourite monsters and creatures with Monsters Vs Aliens, Abominable and Home.
Please write Spooktakular Family Films in the subject line of your email.
This competition is now closed.
The winner will be the sender of the first email opened after 12pm on Monday 26 October, 2020. Only one entry per household.
Travel to exciting worlds with some of your favourite characters this Halloween with these brand-new family collections available on DVD now:
Spooky Tales (Addams Fam/Monsters Fam/Casper) [DVD] [2020]
Thrilling Adventures (Wallace & Gromit: Curse/ Mr Peabody & Sher/Megamind) [DVD] [2020]
Tricks & Treats (Monster V Alien/Home/Abominable) [DVD] [2020]