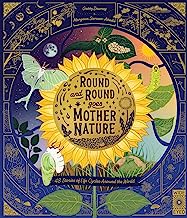 I wasn't sure what to expect when asked to review Round and Round goes MOTHER NATURE by Gabby Dawnay & Margaux Samson Abadie, but I needn't have worried. It is an amazingly well conceived book and so appropriate for young people in this day and age. It complements their interest in conservation and a fascination for Nature.
The illustrations are absolutely beautiful and the ratio of illustrations to words is really refreshing. A bit like Goldilocks and the Three Bears – not too much, not too little but just right. It is very colourful and visually engaging for children of all ages.
The breadth of different sub-topics within the 'Nature' heading – Animals, Plants and Fungi, Earth and Space – engaged my seven year old and a four year old grandsons. It encouraged lots of discussion about the different natural life cycles and provided lots of opportunity to ask questions. Embedded with the text are many interesting facts: Did you know 'There are 7 000 varieties of different apples growing on branches worldwide'? As well as scientific information: 'Carbon is a non-metal element that makes up nearly a fifth of every living thing.'
The format and layout of the double pages for each topic were really accessible. This made our seven year old grandson want to have a go at reading whole sections by himself. He was very motivated to do this as the topics chosen were very relevant for his age group and his particular interests. Each time a page was turned the beautiful illustrations drew him (and his brother) into the topic.
Our four year old grandson found the intensity of the content more difficult to follow and only absorbed the information in smaller chunks as it was read to him. The vocabulary is wide ranging and encouraged the use of a breadth of technical and specific language.
This is an excellent book as part of every child's bedtime 'dip in and out' collection. It is great for reading a page or two to wind down at the end of the day with a brilliant range of topics.
I highly recommend Round and Round goes MOTHER NATURE by Gabby Dawnay & Margaux Samson Abadie for your child's book shelf, and guarantee you will not be disappointed.
PWT rating: ♥♥♥♥♥
Published by Wide Eyed Editions, Round and Round goes MOTHER NATURE is available from bookshops and online.