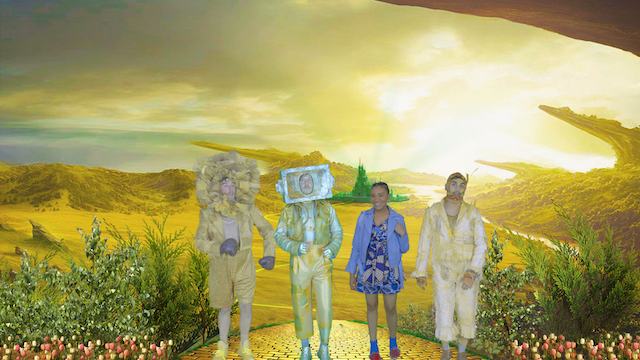 Yesterday evening we fell under the spell of the Creation Theatre's live and immersive interpretation of The Wonderful Wizard of Oz in which eight actors performed, working remotely and bringing some of the magic of pantomime to these desperate times.
Chloé Lemonius (Dorothy) who makes her acting debut with Creation Theatre is joined by Dharmesh Patel (Scarecrow), Tom Richardson (Tin Man) and Simon Yadoo (Lion) plus iconic performer, Le Gateau Chocolat, as the Good Witch.
You can see the full cast and programme notes here.
The Wonderful Wizard of Oz has been updated so that we first meet Dorothy feeling very fed up in her bedroom mid-lockdown, beguiled by a "social media influencer" when suddenly she finds herself transported to another world in which she has just killed the Wicked Witch from the East... you know what comes next but not how in this updated version which is fun and so pertinent.
There were lots of laughs but a little confusion for Harriet (nearly 11) who didn't understand the jokes about Tin Man who is a computer as they all date back pre–Apple. Although I think everyone gets Dorothy's advice to turn off and turn on again and the show mentioned Tik Tok.
Sadly the refrain that "There's no place like home" has an added bitter-sweetness this year when many people will not be able to be with their families. However if you book the same show as family or friends you'll be able to wave to them in the audience.
Great to watch as a family – Creation Theatre brings some of the magic of Christmas into our homes.
PWT rating: ♥♥♥♥
Tickets cost £30 per device and you can book here.
Recommended age seven plus; running time two hours including an interval (no queuing at the bar or for the loos!)